Alternate Uniforms Should Be a Bit More Alternate
How terrible must have Sunday night's game been for the Pittsburgh Steeler fans in attendance at Heinz Field. It was, on its face, a choice game against the teams biggest rival on a Sunday night showcase. Then quarterback Ben Roethlisberger goes down the week before the game, taking away the team's biggest offensive weapon. Then these Steeler fanatics show up to find their team clad in these ridiculous bumble-bee uniforms from 1934 and they played as bad as they looked in a 13-10 loss to the Baltimore Ravens.
I tackled the subject of new-fangled uniforms in an article last year called Consistency vs. Asininity, But what about this trend of going to some ridiculous throwback? Most readily admit that it is all about merchandise sales, as die-hard fans will gobble up any collector's item that becomes available, especially if these items are validated by actual use on the field.
Beyond the ancient throwbacks are the more subtle alternate uni's such as the Denver Broncos going back to navy blue on Sunday against San Diego. For Bronco fans like myself, we've waited long enough for the "Orange Crush" to return, so seeing the old blue was not even a novelty. I do understand special uni's for special situations, like prime time games, but I'm pretty much a purest when it comes to regular Sunday afternoon games. The NFL is a very visual game and consistency should be the rule.
Throwback uniforms first appeared in 1994 when the NFL celebrated its 75th anniversary with each team wearing throwbacks for one home and one away game that season. Since it was new, it was pretty neat and caused a stir among fans. But when it is overdone it no longer a novelty, just a joke.
~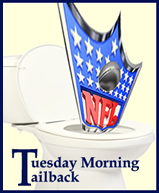 Tuesday Morning Tailback is a weekly article during football season which take a critical look at the NFL. We do this from the base belief that NFL football is the greatest game in the history of mankind, but some recent policies and the overall direction of the league has chipped away at this greatness. Our primary goal is to spark debate on these subjects, so please leave your own opinion on this article in the comment box below.