December 31, 2012
By J.D. Cook
Well the Giants season is over. We ended 9-7 with a resounding beat down on one of the two teams I can't stand in the N.F.L in front of children from Sandy Hook Elementary. This was probably the most dominating performance the Giants have had again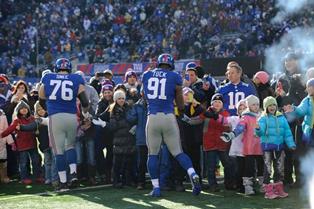 st an Andy Reid coached Eagles team. Strange that it should come on his last game as a coach. It's kind of sad for a coach like Reid to go out like he did but that is the Philadelphia Eagles for you. Reid's biggest mistake was hitching his wagon to Michael Vick who was at best a quick term fix who became a media darling…why? I do not know since he has done nothing but not express any real guilt over his crimes. No matter Reid's mistakes it is sad to see him go; his personal tragedies have been terrible and I feel sorry for him. On the football field it's like bidding good bye to an adversary you respected as much as you rooted against. Either way I was happy to see Vick perform as terrible as he usually did this season. It's always nice seeing the Giants crush him.
On the field yesterday it looked like 2011's New York Giants showed up. Eli Manning showed up better than he had all season with five touchdown passes. Rueben Randle showed that he will make an excellent 3rd Wide Receiver or even a replacement for Hakeem Nicks if he cannot overcome his injury issues. Hopefully over the off season the Giants will find a third running back to complement the speed of Bradshaw and Wilson who showed that although they are brilliant when healthy they cannot carry the team's run game. If Brown comes back that problem may be solved but drafting a big back could be a good idea. On defense we need to get younger and faster. The Defensive line needs a shake up as it under produced this year but overall they are not a bad group. The whole team just needs to be tweaked. After all they were perhaps a win away from being the division winner instead of not in the playoffs at all.
Finally there has been a lot of talk in the media about why the Giants played well yesterday and not the weeks prior. Well the Eagles are a 4-12 football team…they suck and we dominated them. It's really not that surprising. The Giants late season losses came to high caliber playoff teams and that is really all there is to their late season collapse. They played teams that were hungrier for the playoffs then they were and they did not step up to the challenges they faced. It's a matter of getting new players on the team who are excited and inspired to play for a title. Most of the current lineup has a ring or two and they have accomplished the highest team achievement possible. The Giants need a championship hunger again! Well we will see what the off season brings. It has been an entertaining; if disappointing season and the Giants could be very good next year if they build on this season.
Until Next Year GO BIG BLUE!
***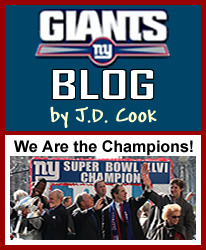 The Giants Blog is published every Monday during the NFL season while the New York Giants remain viable contenders (which in 2011 was right to the end and their Super Bowl championship). On the weeks when the Giants have a Monday night game, the blog will be published on Wednesday. The blogs are thoughtful (albeit heavily biased) analysis of the Giants' performance from our editor-in-chief and Giant fanatic J.D. Cook.