Jan 29 2013
So the President of the United States has stated that he would have hesitated to let his son (who would have looked like Travon Martin, by the way) play football, if he actually had a son. In an interview with New Republic "I think that those of us who love the sport are going to have to wrestle with the fact that it will probably change gradually to try to reduce some of the violence," said President Obama. "In some cases, that may make it a little bit less exciting, but it will be a whole lot better for the players, and those of us who are fans maybe won't have to examine our consciences quite as much."
So now we find out (gasp!) that football may be dangerous. Who knew? We'd better get right on that immediately to protect these adults who have worked and dreamed of being in the position of playing this dangerous sport! Now the sports media have their talking points for the week to stop any chance of real fans getting real pre-game coverage.
In other news, the worst broadcasting tandem in history will be calling this week's Super Bowl on CBS, the most mundane broadcasting network in history. The boring Jim Nantz, who has stated his opinion calling The Masters golf tounament is a bigger thrill than calling the Super Bowl, will be joined by downright dumb Phil Simms. During the Divisional Playoffs a few weeks back, Simms suggested that the Houston Texans should set up for a field goal when down by 13 with under two minutes remaining. A third grader can figure out how that math doesn't work out! Whatever happened to Dick Enberg and Merlin Olsen? Pat Summerall and John Madden?
Then just in case there's not enough suck involved, we'll have beyonce lip-syncing through the lame halftime show, which lasts way too long and seriously kills the game's momentum even when The Who or the Stones are playing.
Hopefully we'll have a good Super Bowl in New Orleans on February 3rd.
~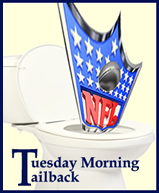 Tuesday Morning Tailback is a weekly article during football season which take a critical look at the NFL. We do this from the base belief that NFL football is the greatest game in the history of mankind, but some recent policies and the overall direction of the league has chipped away at this greatness. Our primary goal is to spark debate on these subjects, so please leave your own opinion on this article in the comment box below.