by J.D. Cook
I hate to discuss positives after a loss because that's what my old football coaches did. If we lost we got a happy pep talk and if we won we got yelled at. Reverse psychology as you might call it but I prefer to call a spade a spade. That said I'm going to do exactly what I dislike to start. The Giants defense looks like it has come light years since last year despite its many losses including Osi Umenyiora. Tuck looks healthy and the front four looks tough. Add to that a solid back four with the Prince, and Webster and we just may have a defense that can keep opponents from scoring when they need to. It's also great seeing Aaron Ross back in blue. Unfortunately none of that means a damn if the offense gives the ball away six times. Eli Manning looked rusty in the first half but as soon as the game was on his shoulders he played fine. David Wilson was a huge chain around the team's neck because he took the run game out of the equation for the offense. When he was benched for Scott it helped a great deal. It's sad because Wilson generally has a huge amount of talent and speed but he seems to be unable to hold onto the ball against Dallas for some reason. Equally sad is that Scott played very well while filling in for Wilson but his one mistake, a tipped ball he failed to catch, resulted in the game clinching touchdown for the Dallas Cowboys.
The big positives on offense were the continued great play of Victor Cruz and the true return of Hakeem Nicks as a real threat. If Eli keeps the ball out of the opposing teams hands I think we might just have on of the best passing games in the NFL this year.  The Dallas Cowboys despite winning really looked like the worse team in many ways. Their offense was unable to move very far up the field and almost all of their scores came from NY Giants turnovers. I would not be surprised if Dallas ends up at the bottom of the NFC East this year as Washington should be good again this year, and Philly may be surprisingly resurgent with its new offense. It's a long year though and predication's made in September seldom come true in February. Thing's just get worse next week for the Giants as they play a genuinely good team in the Denver Broncos; unlike Dallas they will capitalize on ALL of the Giants mistakes and their offense is likely to move up the field easily. The Gmen could be staring 0-2 in the face next week but I'm hopeful Big Blue will turn it around and correct their mistakes entering Manning Bowl III. Thus they will be fueled with a little more motivation then the high flying Denver Broncos.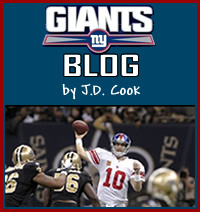 The Giants Blog is published every Monday during the NFL season while the New York Giants remain viable contenders (which in 2011 was right to the end and their Super Bowl championship). On the weeks when the Giants have a Monday night game, the blog will be published on Wednesday. The blogs are thoughtful (albeit heavily biased) analysis of the Giants' performance from our editor-in-chief and Giant fanatic J.D. Cook.
Other Sports Related Articles