Only Jerks Are "Competitive"
by Tuesday Morning Tailback
Dez Bryant threw several sideline tantrums during Sunday's game between the Dallas Cowboys and Detroit Lions. These were later explained away by head coach Jason Garrett and quarterback Tony Romo as being due to Bryant being highly "competitive". However, video evidence (along with common sense) seems to dispute this assertion.
At one point near the end of the third quarter, Bryant came off the field and started yelling at Romo and the Cowboys' receivers coach, apparently because a third down pass was not thrown his way. However, there was the deeper issue of envy going on here. Leading up to the game, Bryant had claimed that he was capable of doing anything that Lions receiver Calvin Johnson can do, and Johnson was having a historic game. OK, maybe this is the "competitive" about which they spoke.
However, that does not explain Bryant's later sideline meltdown after the Lions drove 80 yards in 40 seconds to incredibly take the lead with just seconds left to go. Here, Bryant went off on tight end Jason Witten which prompted an intervention by injured teammate DeMarcus Ware. How can this one be explained away as competitive?
Bryant has had a rough background and a slew of problems including a July 2012 domestic violence arrest for allegedly striking his mother. The Cowboys have already fined him over a hundred thousand dollars due to professionalism and punctuality issues. He follows in the footsteps of other talented receivers like Terrell Owens who offset their talent with divisive actions which hurt his team. Owens was also frequently excused as being "passionate" or "competitive" but ultimately, he was bounced from team to team who tossed him when they found out how destructive he really was.
Contrast this with Calvin Johnson, a consummate professional who caught 14 passes for 321 yards, the second most yards in a game in NFL history. Johnson has suffered through some lean years with the Lions, including an 0-16 season in 2008. Yet he never had a meltdown like Bryant, so I guess he is not all that "competitive".
~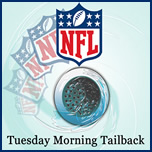 Tuesday Morning Tailback is a weekly article during football season which take a critical look at the NFL. We do this from the base belief that NFL football is the greatest game in the history of mankind, but some recent policies and the overall direction of the league has chipped away at this greatness. Our primary goal is to spark debate on these subjects, so please leave your own opinion on this article in the comment box below.
Other Sports Related Articles