by J.D. Cook
Yesterday the Giants continued to make me look like a good prognosticator when they won their second game in a row. That's two down and seven to go before they fulfill my entire prediction. That said they won't win many more games without scoring a single touchdown on offense. I have been saying all year that the Giants defense was not nearly as bad as they were being made out to be and I was proven right yesterday. The defense completely controlled the Eagles offense with or without Vick which was wonderful to see. Unfortunately the week I dropped Josh Brown as my fantasy kicker, he is the Giants leading scorer. That is the kind of year I have been having in fantasy football. Unlike past games the Giants offense was not completely incompetent despite not scoring any touchdowns. On the contrary they were very effective at controlling the clock and tempo while constantly pushing into field goal range. New running back Cox and new addition Peyton Hillis have proven a godsend as they are both hungry runners who don't waste momentum and pound the ball for five yards and a cloud of dust on almost every play. I hope that when Jacobs returns the Giants will use all three to wear down opposing defensive fronts.
All of this said we did only beat a team that was fairing moderately better than us this season. I wouldn't be surprised if the Eagles slip completely out of the playoff picture within the next few weeks. The announcers kept making a point that Chip Kelly didn't believe time of possession was an important stat. By the end of the game it seemed extremely apparent that Chip Kelly probably had no idea what he was talking about. Time of possession is indeed an extremely important statistic, especially to the storied franchise of the New York Giants. Time of possession was essentially how the Giants beat both the up tempo and high powered offense of the Buffalo Bills and the New England Patriots of 2007. If you can keep a team off the field, especially a team with a good offense, you can cut down on the number of plays they can run and if your defense is good you can stop them and get your offense back on the field to control the clock again. Chip Kelly's newfangled offense that was all the rage prior to the season has become a huge bust because in the N.F.L. fast paced offense don't usually win championships because good coaches shut them down with…survey says…TIME OF POSSESSION! Oh and the Eagles don't have the personnel to run a pass first offense. They should put games on the shoulders of McCoy but they always seem desperate to pass.
OK that was a pet peeve I had during the football game. Now next week is our bye week and it's a great time for it. We are going into it strong and at a great midway point in the season to rest and get healthy. We return against a mediocre Oakland team who we should beat with our backs against the wall and their team journeying across the country. After that besides Green Bay and Seattle I really think we can win every game and if we give our best performance of the season we might be able to steal one of those two ending the season 9-7. More likely though, we will end up 6-10, 7-9, or 8-8 in the best case scenario. 9-7 is a pipe dream for us right now but it's a pipe dream that might inspire us to take the weak N.F.C. East. I'm just going into every week with no expectations and full optimism because the worst has to be behind us with the 0-6 start…I hope.
***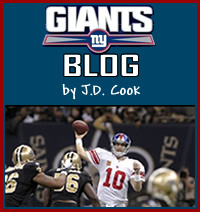 The Giants Blog is published every Monday during the NFL season while the New York Giants remain viable contenders (which in 2011 was right to the end and their Super Bowl championship). On the weeks when the Giants have a Monday night game, the blog will be published on Wednesday. The blogs are thoughtful (albeit heavily biased) analysis of the Giants' performance from our editor-in-chief and Giant fanatic J.D. Cook.
Other Sports Related Articles