by Tuesday Morning Tailback
The Pittsburgh Steelers have not started a season 0-4 since 1968. That was the year before Chuck Noll became head coach and led the team to four Super Bowl championships in the 1970s.
Much of the blame for these early season woes in the steel city has been directed at the offense and new coordinator Todd Haley and there are reports of some discord within the team which may threaten Haley's future with the team, especially during this upcoming bye week. Still, there is enough places to find fault on both sides of the ball and throughout the first four games, from a pathetic opening day performance against Tennessee to Sunday's loss in a London shootout again Minnesota.
For many of us fans, it will seem odd to have a season where Pittsburgh is not in the mix for contention late in the season. That is still a possibility as no one in the AFC North division is better than 2-2 and the Pittsburgh Steelers still have five divisional games remaining. But without much improvement, the team may not have a good shot.
The Steelers finished that 1968 season 2-11-1 and things actually got worse during Noll's first season of 1969 when the Steelers were 1-13-0, their worst record ever. But from there it only took five years for the team to reach the top and, once there, the Pittsburgh Steelers stayed for a while.
~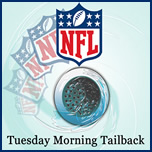 Tuesday Morning Tailback is a weekly article during football season which take a critical look at the NFL. We do this from the base belief that NFL football is the greatest game in the history of mankind, but some recent policies and the overall direction of the league has chipped away at this greatness. Our primary goal is to spark debate on these subjects, so please leave your own opinion on this article in the comment box below.
Other Sports Related Articles