by: J.D. Cook
Ok so the game didn't have a huge amount ridding on it. The Packers are without their starting quarterback, Aaron Rodgers and the Giants were 3-6 entering the game. That said the Giants desperately needed this one. It got them one game closer to reaching and perhaps breaking .500 for the first time this season. The Gmen did not disappoint. The defense looked better than it has all season with 3 interceptions, one returned for a touchdown by Jason Pierre Paul. John Beason's may have been a tad more fun to watch though as he barreled through defenders to earn extra yards. What made this game more special on a personal level was that I was sure I wouldn't see any of it as I had to work virtually all day. Thankfully my employer surprised everyone and let us out an hour early. So I made it back in time to see the end of the first half and the entire second half. On an organizational level this game always means something; as throughout their histories these two teams have had plenty of interplay. Where did Lombardi get his start? The New York Football Giants! They are also two of the oldest teams in continuing existence and they represent the polar opposite of American football as one team is the overwhelmingly big New York and the other is the tiny den of pride known as Green Bay. Let's not forget their intense game in the second Ice Bowl and their recent meeting in the playoffs. As I said…classic.
So the game itself? Well I jumped in with us in the lead 10-3 and the game was really in our control almost the whole time. There was a point where Green Bay was within a touchdown and I was worried that this game could end with a reverse score of our 2007 N.F.C. Championship game. Those of your who don't know,  I made a vow before that game that if we won I'd go streaking in the freezing cold in nothing but my Giant's boxers. The Gmen won and I kept my vow circling my father's circle to the utter confusion of the nearby neighbors. Anyway back to 2013's game! The Giants won this one with a run game and a defense just like I advised back in my blog after the Bears game. This is also keeping us on our way to a potential nine win season and maybe even the N.F.C. East which is shockingly still up for grabs. My only fear is that we will reach six wins and lose focus when the pressure comes off the team a bit. Next week we face another must win against the Dallas Cowboys. If we want to continue to keep the N.F.C. East dream alive we have to take care of  'America's Team'. Man what a joke that is. I watched Killing Lincoln recently and Dallas is anything but America's Team. I mean one of the most revered Presidents in history was assassinated in that town. I've always known that fact but I was reminded of it recently so it's in my mind while writing this. Man I hope our defense plays half as well against Romo as it did this week. The New Yorkers need to take down the den of Presidential Murder. My new moniker for Dallas? America's Bane.
Alright I could rant all day after a rousing win like this but there is only so much time in the day! Thanks for spending some time reading this and go Gmennnn!
***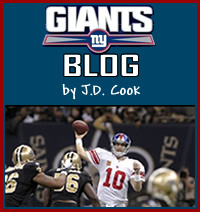 The Giants Blog is published every Monday during the NFL season while the New York Giants remain viable contenders (which in 2011 was right to the end and their Super Bowl championship). On the weeks when the Giants have a Monday night game, the blog will be published on Wednesday. The blogs are thoughtful (albeit heavily biased) analysis of the Giants' performance from our editor-in-chief and Giant fanatic J.D. Cook.
Other Sports Related Articles