Ugly Season Ends in Beautiful Victory
by J.D. Cook
Final Score: NY Giants 20 Washington Redskins 6
When football is played in ugly, nasty, horrible weather it is nothing short of beautiful! My favorite foul weather to see a football game take place in is snow. Since the temperature today was a bit too high I got to watch a dreary cold rain game instead. That was fine by me! Both teams were playing for pride and pride alone. I was honestly a bit worried about the Redskins as they have been on a massive loosing streak of late giving them extra incentive to land a victory and have been looking better in recent games. Unfortunately for them the rain completely nullified all of their talent. The Giants managed one long drive in the first half capped off with a touchdown to emerging receiver Jerrel Jernigan. In the second half the Redskins played ultra conservatively throughout even though Eli Manning was off the field turning the Giants into what should have been a feast for the win hungry Redskins. On a short 4th down far in their own territory the Redskins elected to punt the ball instead of going for it. Now it was deep in their territory but it's the final game of the season and probably Mike Shanahan's tenure in Washington. Why not just go for it? Well I am glad they didn't because on the first offense play after that punt Jernigan scored his second touchdown on a reverse.
It was exceedingly nice to see the Giants with a spark on offense even after Manning went down at the end of the 1st half effectively ending his season. To be honest I did not even know who our second string Quarterback was until he took the field. Curtis Painter did an ok job standing in for Manning in the second half. It was nothing to write home about as he only completed two passes but he didn't make any major mistakes and managed the team, keeping us in the lead. Enough about the offense though! The defense was what really won this game! Justin Tuck once again showed the New York Giants that he is one of the few players who should escape the inevitable off season axe that is coming down with two sacks and a forced fumble. Along with him linebacker Jon Beason put up a big game leading the team in tackles with eight. Add to that mix Antrel Rolle who should be in the pro-bowl with the season he has had and I think the Giants are actually pretty solid on defense heading into next season. I think we need to supplement these players with fresh defensive linemen, linebackers and corners but I wouldn't be surprised if a good amount of things stayed the same on this side of the ball. They can in no way be blamed for the teams woes this year and they closed out the year with a resounding beat down of the Redskins just to drill home that fact to management.
This game had a hilarious 11 fumbles and interceptions. I mean you know both offenses are as bad as the weather when that happens. I'm just glad we had guys playing with as much heart as Peyton Hillis. This will probably be his final game as a New York Giant but he helped the offense immensely contributing a hard hitting runner as well as a champion's drive to win despite the team's losing record from the first day he joined the team. That said the Giants biggest needs right now all surround the offensive running game. They need new running backs and linemen to regenerate the ground attack necessary to carry the Giants into the post season again. I am excited to see what happens this off season and I hope that while rebuilding our management does not loose sight of those that have helped us on the past decade of success.
Until Next season I bid you all a very fond farewell!
Let's Go Big Blue! (in 2014)
***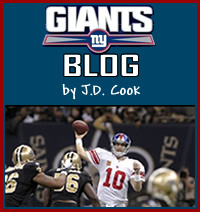 The Giants Blog is published every Monday during the NFL season while the New York Giants remain viable contenders (which in 2011 was right to the end and their Super Bowl championship). On the weeks when the Giants have a Monday night game, the blog will be published on Wednesday. The blogs are thoughtful (albeit heavily biased) analysis of the Giants' performance from our editor-in-chief and Giant fanatic J.D. Cook.
Other Sports Related Articles