by Tuesday Morning Tailback
"That's just Richard being Richard", replied Seahawks coach Pete Carroll on Monday when asked about cornerback Richard Sherman's late-game and post-game antics. Here, Sherman called out 49ers receiver Michael Crabtree as "sorry" and "mediocre" all while butchering the English language with chants like, "I the best", and, "We the best".
Whether intentional or not, Sherman has made himself the focal point of the media the last few days as we prepare for what should otherwise be an excellent Super Bowl. The game has rich sub-plots such as, the #1 offense of the Denver Broncos vs. the #1 defense of the Seattle Seahawks, the first outdoor cold-weather Super Bowl (and first in the New York City area), and a revival of an old, quarter-century-long, divisional rivalry meeting in a Super Bowl, something that is virtually impossible in most situations. Sherman has somehow managed to suck up all the oxygen from these legitimate stories.
Not to mention there are another hundred or so players on both teams whom have played their hearts out to get to this point. One of these players is the longtime cornerback of the Denver Broncos, Champ Bailey. While Sherman is just in his third season in the NFL, Bailey is in the 15th year of a long and distinguished career which included 12 Pro Bowl appearances, the most ever for a player at the cornerback position. While this is has been far from the best season for Bailey, who missed 11 games due to an injury. It may be his most memorable, as he filled in for other injured players during the crucial playoff run leading to his first ever Super Bowl appearance. Still, Bailey has gotten virtually no recognition (at least as compared to Sherman). Even a local Seattle blog noted the irony when they said;
Bailey's subdued celebration and measured reaction in delirious Denver stood in stark contrast to the scene in Seattle later Sunday night, where Seahawks cornerback Richard Sherman stole the spotlight with his game-saving deflection, his taunting of Michael Crabtree and his television rant on the field afterward.
Now Sherman did sort of walk back his comments a bit in an article he wrote for Sports Illustrated's Monday Morning Quarterback (hey, did they steal that name from us?!). However, I think an even bigger culprit than Sherman himself is the sports media. "He's a breath of fresh air" said Ron Jaworksi of ESPN to go along with dozens of other asinine excuses offered by asinine excuse makers. But just what is so fresh and original about a grown man talking like a teenage thug? Other commentators had no problem with his trash-talking but took issue with him flashing the "choke" sign, as if there is any difference in classlessness.
Does anyone remember the XFL? It was a professional football league, founded by Vince McMahon owner of the WWE (then still the WWF) that was supposed to bring some of the pro wrestling "edge" to football. It premiered on a Saturday night in February, just six days after the Super Bowl (the one where the Ravens crushed the Giants), and got incredible viewership numbers that first night. Caught up in the hype, my sons and I actually tuned in that night but found ourselves bored after about a half hour of sub-par football played by amateurs in flashy uniforms with street-thug nicknames. The XFL folded after just one season.
Sherman is a fine player, in fact an exceptional player. But so are a lot of the other men who will be suiting up in two weeks for the Seahawks and Broncos. Commentators like Jaworski might think that the NFL needs more trash talk to spark interest in the greatest game known to man, but some of us like the action to be contained on the field itself. Carroll and others might excuse this act as, "Just Richard being Richard". In fact, it may really just be, "Dick being a Dick".
~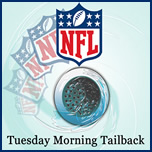 Tuesday Morning Tailback is a weekly article during football season which take a critical look at the NFL. We do this from the base belief that NFL football is the greatest game in the history of mankind, but some recent policies and the overall direction of the league has chipped away at this greatness. Our primary goal is to spark debate on these subjects, so please leave your own opinion on this article in the comment box below.
Other Sports Related Articles