There's a Flag On the Play
by Tuesday Morning Tailback
I wish I could say week two was filled with exciting football, but I cannot. The week of tortured hang-wringing off the field seemed to bleed through to the actual gridiron, especially when it came to the "flag happy" officials and the mounds of annoying, marginal penalties.
It started with the Thursday night game, which featured the Pittsburgh Steelers and Baltimore Ravens, considered a great rivalry, in part, because of its hard-hitting nature. However, this game was plagued by bad flags whenever there were any hard hits, and it wasn't just the officials who were culpable. After the reply of one of these penalized plays late in the 3rd quarter showed the hit was actually shoulder-to-shoulder, serial apologist Phil Simms said "I couldn't tell if he hit him in the head or not, but when you're far away, I'm sure it looked like a hit to the helmet". Well, that's the point of having an official, Phil, to adjudicate the difficult calls correctly. There were so many flags in Sunday night's Bears-49ers game that Al Michaels said, "(NFL referee Carl) Cheffers has now officially appeared on television more than Jack Benny over his career".
Of course, the "holier than thou" media decided to throw their own flags about the Ray Rice and Adrian Peterson situation. ESPN's top Sunday show, Sunday NFL Countdown, spent more than 45 minutes wringing their hands in two separate 'AA' type roundtables of personal stories, each ending with an outdoing of condemning the players and/or the league. I remember, about a decade ago, when ESPN faced the Rush Limbaugh / Donovan McNabb situation and Chris Berman threw up his hands and lamented "listen, we're all about football here each Sunday". Apparently, not any more.
Week 2 Most Important Wins
Chicago Bears – Coming back from 17 points on the road against a top-level team like San Francisco has got to be the most positive of early season boosts for this team.
Philadelphia Eagles – The Eagles became the first team in history to win their opening two games after trailing by 14 or more points in the second half. Last week's comeback against Jacksonville was half expected, but last night's comeback in Indianapolis was monumental.
San Diego Chargers – There were several times when it seemed like Seattle was destined to complete a comeback. But the Chargers hung tough each time, and got an important win against the defending champs.
Cleveland Browns – Close games like this one against the New Orleans Saints are the kind of games that Cleveland usually loses in the end. Hanging tough and driving the length of the field for a last second victory, has got to give some hope for the Browns.
Arizona Cardinals – At points in the second half of both of this seasons Cardinals' games, they looked flat and uninspired. However, in both cases, the team came alive when it was crucial and pulled out a victory.
Week 2 Most Devastating Losses
On the opposite end of the Bears' spectrum is the San Francisco 49ers, who somehow got blanked 21-0 in the fourth quarter to a team with a depleted defense and who really seemed on the ropes. Meanwhile, the Tampa Bay Buccaneers have started the Lovie Smith era with consecutive losses at home, this week's coming to the lowly St. Louis Rams.
What I'm Looking Forward To In Week 3
Denver @ Seattle – There hasn't been a Super Bowl rematch the very next season in quite a while and this is particularly interesting to measure exactly where the Broncos are compared to their disgraceful performance in February.
San Francisco @ Arizona – Hiding in the shadows of a 4:05 EDT starting time, is this very important divisional game, which could conceivably put the Cardinals in the drivers seat of the tough NFC West, while putting the 49ers in an early season hole.
San Diego @ Buffalo – Over the next few weeks, we're going to see if the Buffalo Bills are for real, starting with a tough game at home against the Chargers that they should win if they expect to get to the next level.
Final Notes…
I'll leave you by throwing a few flags of my own. At some point, someone's got to be fired for strategic stupidity. I see it every week, but this week it was Jets Offensive Coordinator (illegally) calling timeout, which nullified the tieing touchdown late in the game. How exactly do these guys get such high paying jobs?
Until next Tuesday…
~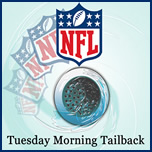 Tuesday Morning Tailback is a weekly article during football season which take a critical look at the NFL. We do this from the base belief that NFL football is the greatest game in the history of mankind, but some recent policies and the overall direction of the league has chipped away at this greatness. Our primary goal is to spark debate on these subjects, so please leave your own opinion on this article in the comment box below.
Other Sports Related Articles