by: J.D. Cook
It was a loss but it was a respectable and well fought loss. There is a big difference between last week's blowout loss to the Lions and this week's close loss to the Cardinals. Obviously a loss is a loss at the end of the day but I have confidence we can still make something of this season. We started 0-2 before we won the super bowl in 2007 after all!
The Positives
The Giants defense looked even better this week! We got a few big sacks and managed some important stops throughout the contest. If you were just watching the highlights of this game you'd probably think Eli Manning had another bad game but on the contrary he seemed solid in the pocket with one of his interceptions coming off a tipped pass that a receiver should have had and the other coming in garbage time after the Cardinals had put the game away. The offense was able to string together a few excellent drives. TE Larry Donnell continued to look awesome but might be the only truly clutch member of the receiving core.
The Negatives
The Giants still had problems stopping the opposite teams big game receiver. Larry Fitzgerald didn't go as hog wild as Calvin Johnson but he still caught what was thrown his way. Big Blue also has a serious 3rd down problem on both sides of the ball. They had trouble getting enough stops and their offense did not produce when they absolutely had to near the end of the game. The offense also failed to score enough points and the WR corps look virtually nonexistent. Victor Cruz does not seem to be playing up to his big contract or he's lost a step. Reuben Randle looked good at times but he can't shoulder the whole passing game.
The Two Minute Drill
I'd be surprised if the Giants beat the Texans next week but if we improve as much as we did from last week to this week again anything is possible. I still think our first win will come against the Washington Redskins despite their victory over the Jaguars today. On a final note of interest, this game should have been fun for long time Giants fans who recall that the Cardinals were longtime division foes of ours.
Until Next Week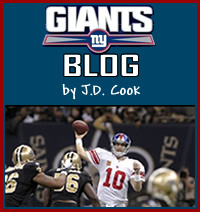 The Giants Blog is published every Monday during the NFL season while the New York Giants remain viable contenders (which in 2011 was right to the end and their Super Bowl championship). On the weeks when the Giants have a Monday night game, the blog will be published on Wednesday. The blogs are thoughtful (albeit heavily biased) analysis of the Giants' performance from our editor-in-chief and Giant fanatic J.D. Cook.
Other Sports Related Articles