Seven Reasons Why 2011 is
The Year of the Quarterback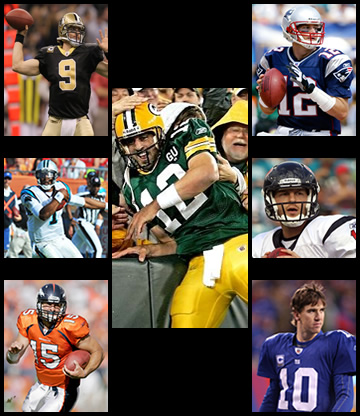 It has been a great season for quarterbacks with some unbelievable performances thus far. This fact is made all the more fascinating in light of Peyton Manning, one of the greatest ever, not playing at all due to injury and media darlings Phillip Rivers and Michael Vick playing at very mediocre levels. But anyway, with three weeks left in the regular season, we thought we would take a breath and reflect on the seven biggest quarterback stories of the season. Of course, the final verdict will be rendered in two months when (likely) one of these players leads their team to a world championship.
#7 T.J. Yates
OK, this may be way off the beaten path since Yates has only seen action in three games and has only started two for his Houston Texans. But it feels like only in a year like 2011 can a third string rookie come off the bench cold and perform late game heroics to lead his team to victory against two strong opponents.
On November 27, Houston's second string quarterback Matt Leinhart started against the Jacksonville Jaguars after regular starter Matt Shaub was lost for the season the week before. Leinart left the game with a collarbone injury in the first half and Yates saw his first NFL action, managing his team to a victory. The next week he made his first professional start against the Atlanta Falcons and brought the team back from a seven point deficit in the fourth quarter. Yates started his second game this past Sunday in Cincinnati against the Bengals and overcame an even greater deficit, throwing the game winning touchdown with just seconds left, which led the Texans to their franchise-record tenth win and first ever division title.
#6 Cam Newton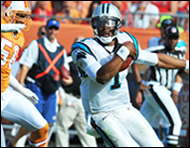 Right from the jump, Newton took the NFL by storm. He passed for 422 yards on opening day, becoming the first ever rookie to throw for over 400 yards in his first career game. Then, just to show he was for real, Cam Newton threw for over 400 yards again in his second game against the world champion Green Bay Packers, as his Carolina Panthers came closer than anyone to defeating the Packers this season. After three games, he had already passed for over 1000 yards.
But passing is just one dimension of this phenomenal rookie. Last week, Newton broke the NFL rushing touchdown record for all quarterbacks as he ran for for his 13th touchdown of the season. He would surely rank much higher on our list if he was able to convert these stratospheric numbers into actual wins for his team, which is only 4-9 and tied for last place in the NFC South.
#5 Eli Manning
With his brother Peyton sidelined with injury, the New York Giants quarterback is the sole Manning in the spotlight for the first time in his life. With this, he is posting his finest statistical season ever, already passing for over 4000 yards with 28 touchdowns and only 12 interceptions. These are numbers would put him in MVP consideration were it not for some of the performances of quarterbacks higher on this list.
But beyond the pure numbers, Eli Manning has stepped up as a true leader and clutch player for the Giants. Unlike his brother, he hasn't had a top-notch, consistant receiver like a Marvin Harrison or a Reggie Wayne to rely on, so "Easy E" has worked on developing the young crew that he does have, and as they improve so do his numbers. The "clutch" element was displayed on Sunday night, driving his team for two touchdown drives in less than six minutes to win a divisional game of the top importance on the road in Dallas.
#4 Tom Brady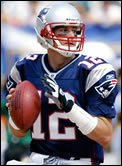 On the opening Monday night against the Miami Dolphins, Brady threw for 517 yards along with 4 touchdowns. It was the fifth highest single game yardage total in NFL history and it set the pace for yet another historic year for the reigning league MVP. The New England Patriots quarterback currently has 4,273 yards passing through 13 games, which means he is well on pace to break Dan Marino's all time seasonal yardage mark of 5,084 (however, there are three others who also may break the record). Brady has thrown for 33 touchdowns and just 11 interceptions with a passer rating of 106.0.
These numbers may seem a bit ho-hum for Brady, who has won three Super Bowls, two league MVPs, and holds the record for most TD passes in a season, with 50 in 2007. But when you consider that he lost his true deep threat in Randy Moss whose replacement (Chad Ochocinco) has been virtually invisible, these numbers are quite impressive. Further, with the Patriots defensive playing at historic lows, the offense has carried the team to a 10-3 record and a firm lead in the AFC East.
#3 Tim Tebow
Alright, alright, I know what you're thinking. How can I rank Tebow so high after blasting all the Tebow hype in last week's article. Further, the Denver Bronco quarterback is really out of place here, being the only one in the top 5 without a legitimate chance to break the all time single-season passing yardage record, which has stood for 27 years. But you cannot deny the bottom line – Tebow wins. In fact, if we were to make a list of all the quarterbacks with a higher winning percentage than Tim Tebow this season it would be very short – Aaron Rodgers. And wins and losses are the true story here, even beyond the "miraculous" comebacks, of which there have been six in Tebow's eight starts, with a seventh win due only to a fourth quarter touchdown pass in what was a tie game.
In an even earlier article this season called Polarizing the Football World, which I published weeks before Tebow's first start, I pointed out how the media thought it was scandalous that the Bronco fans should call for Tebow when Kyle Orton was almost winning games. They constantly preached how Tebow was not ready and should actually be the third string quarterback on Denver. Now that narrative has been utterly shattered by events on the field, where all NFL debates should be settled (afterall, this isn't college football). Tebow is in may ways the opposite of Cam Newton, as he has nowhere near the stats but by far surpasses in wins. Otherwise, those two quarterbacks may be flipped in these rankings.
#2 Drew Brees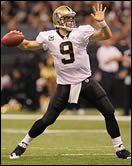 In an earlier article called Cool As the Brees I pointed out how hard it is to believe that Drew Brees seems to once again be slipping under the radar, as he had so many times through his fine career only to pop up and do something extraordinary. Even during that time in October, this looked like a year shaping up to be the New Orleans Saints quarterback's finest. Brees leads the league in passing yardage with 4,368 yards, which means he needs to average barely over 200 yards a game to reach Marino's all time mark of 5,084. Brees came closest to that mark three years ago, falling just 15 yards short at 5,069 and becoming only the second player ever to pass for 5000 in a season (although, like we mentioned, that number may be surpassed by several quarterbacks this year). Brees has thrown for 32 touchdowns and 11 interceptions this season and is now the first quarterback ever to throw for 4000+ passing yards and 30+ touchdowns in four consecutive seasons.
Even more remarkable, Brees is challenging one of the most esteemed records in pro football, Johhny Unitus's 47 consecutive games with a touchdown pass. With a late score this past Sunday in Tennessee, Brees extended his own streak to 40 consecutive games, by far the closest anyone has come to that record which has stood for over 50 years. In any other, Brees would be the runaway favorite for MVP, but not in this incredible season.
#1 Aaron Rodgers
The NFL media and certain fans tend to get carried away when ranking the "greatest ever" when it comes to current accomplishments against a long league history. But it is hard to not consider the season that Green Bay Packers quarterback Aaron Rodgers is having as perhaps the greatest season ever. In spite of all the amazing accomplishments by quarterbacks further down on this list, Rodgers should be a lock to take home the league's MVP award. Let's start first with the numbers.
Like Manning, Brady, and Brees, Rodgers at 4,125 is well within striking distance of Marino's all time yardage record of 5,084. Unlike those other QBs, however, Rodgers has a legitimate shot at Brady's touchdown pass record of 50, as Rodgers has 39 with three games left. Further, Rodgers has about half the interceptions of each of those three quarterbacks with only 6 total all season. His completion percentage hovers around 70% and passer rating is an incredible 123.3. But these are just the personal stats.
He has led the Packers to a 13-0 record following a Super Bowl championship last year, when the team finished with six consecutive wins. This makes the overall win streak 19 games, just two shy of the all time record of 21 straight wins by a team. And, of course there is a legitimate chance that Green Bay can be the first ever team to win 19 games and only the second ever to go undefeated throughout a season.
Just to summarize the kind of season Aaron Rodgers is having, he has the real possibility of breaking BOTH the single season yardage and TD pass records in the same year that he leads his team to the most consecutive wins ever, a perfect record, and a second consecutive Lombardi trophy. All this by a player who had to fight and claw for his opportunities as I profiled in the article A Study in Patience, written after last year's Super Bowl. One could not fictionalize such combined accomplishments.
Overall, 2011 is shaping up to be a season when both the Texans and Broncos (who had zero combined playoff appearances over the past five years) are each led to the playoffs by quarterbacks who were considered "third string" coming into the season, all while just about every major quarterback record is being challenged along with the team records for consecutive wins and wins within a season. Wow!
Just sit back and enjoy the ride, folks.
~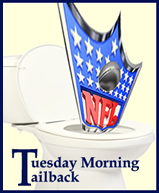 Tuesday Morning Tailback is a weekly article during football season which take a critical look at the NFL. We do this from the base belief that NFL football is the greatest game in the history of mankind, but some recent policies and the overall direction of the league has chipped away at this greatness. Our primary goal is to spark debate on these subjects, so please leave your own opinion on this article in the comment box below.