The 10 Best (and 5 Worst) Speeches at the Republican National Convention
August 31, 2012
by Ric Albano


With the Republican National Convention wrapped up and Mitt Romney set as the official nominee, I thought I'd reflect on some of the best and worst speeches given this past week in Tampa. Being a conservative and a Romney supporter, I tended to agree with much of the content being offered. However, these observations are not so much based on content as they are on the deliverance and effectiveness of the speeches as well as the likelihood that the speech will be remembered.
Best Speeches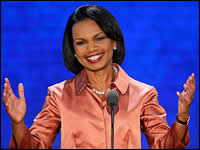 1. Condeleeza Rice
Given without a teleprompter, the former Secretary of State offered a relatively non-partisan But extremely well-received speech on Wednesday night. Heavy on Rice's specialty of foreign policy, the speech was perhaps the most pro-American in a sea of optimistic, pro-American convention speeches and reminded us all of this woman's brilliance. Most importantly, the raving reception that Rice received shatters the Democratic strategy of trying to paint the Republicans as racist and anti-woman. This is the most accomplished African-American woman in the history of this great country and I can only hope there is a large role for her in the future.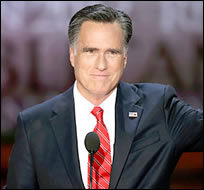 2. Mitt Romney
From his long walk through the crowd to the podium, to his methodical narration of his life's experience, to the expert deliverance of key lines and the crescendo peak at its conclusion, Mitt Romney gave the speech he had to give on Thursday night. Romney paid tribute to the recently departed Neil Armstrong and stated that he had; "the utter confidence that when the really big things need to get done, we need an American to do it". Romney also took all the issues head on and apologized for nothing. He also completely changed the perspective of most convention goers who, at the beginning of the convention, just wanted to get rid of Obama but by the end were enthusiastically pro-Romney.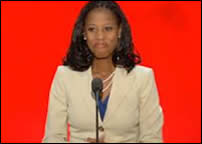 3. Mia Love
Although a short speech on Tuesday, this young congressional candidate from Utah gave a fantastic speech. She told of her parents immigrating from Haiti with just $10 in their pockets and starting a small business with big ideas. Love's line of the night was; "we're not better off than we were four years ago and no rhetoric, bumper sticker, or Hollywood campaign ad can change that". Her speech was straight-forward and brash and I have a feeling we'll be hearing lots more from Mia Love.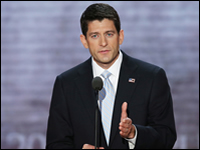 4. Paul Ryan
Ryan's Vice Presidential acceptance speech was upbeat, positive, inspiring and focused on the lofty promise of the American dream. He had, perhaps, the best line of any speaker at the RNC when he said; "…that's freedom and I will take it any day over the supervision and sanctimony of the central planners…" He also promised a no-excuses Romney/Ryan administration when he vowed; "We will not duck the tough issues, we will lead. We will not spend the next four years blaming others, we will take responsibility." The sheer effectiveness of this speech is evident in the concerted effort by left wing media to nitpick a few gray areas while completely ignoring the important points.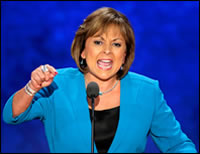 5. Susana Martinez
The governor of New Mexico gave a stirring speech on Wednesday night, frequently speaking phrases in Spanish. She told of her life growing up in an immigrant family on a border town and how she thrived through hard work and dedication. The best part of her speech was when she told of how she became a Republican. Believing herself to be a lifelong Democrat, she reluctantly agreed to go to a Republican meeting out of courtesy but found that her values lined up perfectly with those of the G.O.P. and turned to her husband and exclaimed; "my God, Al, we're Republicans!" Playing completely against stereotype, this Latino woman has been thriving as Governor of a heavily Democratic state with one of the lowest unemployment rates in the country.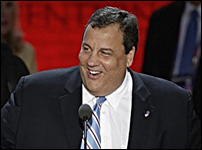 6. Chris Christie
"Real leaders don't follow polls. Real leaders change polls!",said Chris Christie, who made quite an entrance and gave a boisterous keynote speech to fit his personality. He tied together his past, by explaining how much of his mother's attitude he inherited, with the future by rhetorically asking; "What will our children and grandchildren say of us? Will they say we buried our heads in the sand, we assuaged ourselves with the creature comforts we've acquired, that our problems were too big and we were too small, that someone else should make a difference because we can't? Or will they say we stood up and made the tough choices needed to preserve our way of life?"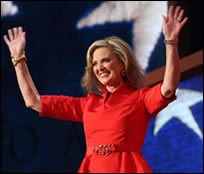 7. Ann Romney
On Tuesday night, the future first lady talked of her life with Mitt Romney. An inexperienced public speaker, Mrs. Romney started off a little nervous and tight, but soon found her rhythm and shone brightly as she spoke of motherhood and the incredible sacrifice women make; "it's a woman who has to work a little harder for her family." Her speech was well received and reflected her as a very likable and common sense oriented woman.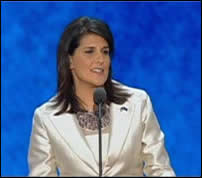 8. Nikki Haley
The governor of South Carolina, who is of Indian descent, gave a very good speech on Tuesday, which focused on some of the absurd (but least reported) practices of the Obama administration. These included the fact that South Carolina is being sued by the Justice Department and the Boeing Company being sued by the Obama Labor Department for expanding (not relocating, but expanding!) to South Carolina where there are right to work laws. These issues need more maginification as the campaign goes on.
9. Marco Rubio
The Florida senator had the misfortune of being placed right after Clint Eastwood and right before Mitt Romney on Thursday night, so his speech and its content will be largely forgotten. This is unfortunate, because Rubio is probably the most natural and smooth speaker of them all and there is no doubt he has a long political future ahead. A highlight of his speech was when he pointed out that the ideas not grouped under the slogan "forward" are, "ideas that people come to America to avoid."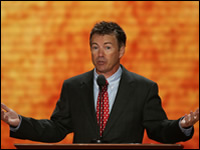 10. Rand Paul
The official delegate count at the beginning of the convention fueled a little bit of dissention by supporters of Ron Paul's presidential bid. His son, Kentucky Senator Rand Paul, did much to heal the bad blood by praising Romney as "someone who understands and appreciates what makes America great." For this reason alone, Rand Paul's speech was important at this convention.
Honorable Mentions
There were a few speeches which were effective but didn't quite make my cut for the top ten. First and foremost, was Thursday's Clint Eastwood speech, which I didn't include on either list because it was truly in a class of its own and will be featured in a separate article in the coming days. There were also fairly effective speeches by Wisconsin Governor Scott Walker and former presidential candidate Rick Santorum. Last, but not least were the testimonials about Romney's character given from ordinary people who knew the Romneys personally through the years, some of which were downright heart wrenching.
Worst Speeches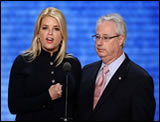 1. Pam Bondi and Sam Olens
The Attorneys General of Georgia and Florida gave a dueling and rather bizarre count of their (now failed) attempt to overturn Obamacare through the courts. Each seemed awkward and monotone as they took turns reading from the teleprompter and were ineffective in reaching the audience with their message.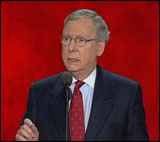 2. Mitch McConnell
Senate Minority Leader Mitch McConnell may have said the right words, but he has been an unnecessary distraction for Republicans, especially with his much-used 2009 declaration to "do whatever it takes to make sure Obama is not re-elected", which showed he has virtually no political tact.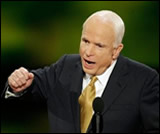 3. John McCain
76-year-old Senator John McCain is a true American hero with an amazing story which was not adequately amplified when he was the nominee in 2008. That being said, he seemed extremely passe and hardly inspiring at this year's convention, especially in contrast to the other brilliant and young speakers.
4. Rob Portman
A month ago, this Ohio senator was the odds on favorite to be the Vice Presidential pick. He is a smart and impressive man, but on Wednesday night he gave a rather mundane and boring speech, especially when you compare it to the speech later that night by the man who actually got the VP nod.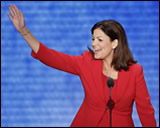 5. Kelly Ayotte
This young senator from New Hampshire is said to be a "rising star" in the Republican Party, but her speech on Tuesday left a lot to be desired as she she appeared nervous and out of sorts. I'm sure she'll have plenty of opportunities for redemption in the future.
Next week, I will do a similar article critiquing the best and worst speeches from this week's Democratic National Convention in Charlotte.
~