The weird odyssey between the NFL and the New Orleans Saints took yet another absurd turn this past weekend. A replacement referee, Brian Stropolo, was replaced as side judge before yesterday's Saints/Panthers game after it was revealed that Stropolo's Facebook page had overt references to love of the New Orleans Saints. While, I feel this particular move was appropriate in order to maintain an appearance of fairness, Saints fans have got to wonder why their team is always is involved in yet another bizarre situation.
Of course, the bulk of this activity involves the "bountygate" sanctions of earlier this year, but I believe it all dates back to 2005 and Hurricane Katrina. That season the Saints were without a home and had to play in Baton Rouge and San Antonio. It seemed to be a certainty that the devastated city would lose their NFL franchise and the team suffered their worst season of this century at 3-13. Knowing the team was essential to rebuilding, the NFL fought hard to restore the team in New Orleans. This, combined with the arrival of quarterback Drew Brees and head coach Sean Payton, brought the Saints back to instant respectability in 2006 and culminated with their first and only world championship in following the 2009 season, which was celebrated as a "special" accomplishment by the league.
But this love affair between the league and the Saints flipped polarity with "bountygate" earlier this year. There is no doubt that the Saints were grossly guilty of these actions, but this does not justify the over-the-top sanctions which were imposed by the commissioner's office. These included a one year suspension for Payton, a possible lifetime banishment defensive coordinator Greg Williams, as well several more suspensions for players and coaches (some of which have since been overturned by judges), and the loss of some draft picks. It's almost as the NFL decided that the Saints had been too good for too long and now it was time to return to their proper position as "lovable losers".
Not surprisingly, the Saints have struggled early this season, losing their first two games to team that were mediocre at best last year.
~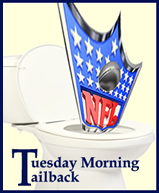 Tuesday Morning Tailback is a weekly article during football season which take a critical look at the NFL. We do this from the base belief that NFL football is the greatest game in the history of mankind, but some recent policies and the overall direction of the league has chipped away at this greatness. Our primary goal is to spark debate on these subjects, so please leave your own opinion on this article in the comment box below.