Kanye West Presents G.O.O.D. Music Cruel Summer Review
September 23, 2012
By Oliver Layco
G.O.O.D = Getting Out Our Dreams
The long awaited album from Kanye West and friends has finally been released. His friends include the likes of Common, Kid Cudi, Big Sean, and John Legend to name a few. Cruel Summer starts off on a good note with To the World; which surprisingly features R. Kelly! For whatever he's done in the past, for Kanye to want to include him as part of this shows how he thinks that anyone deserves a second chance after being painted as the enemy in the public spotlight. The next track, Clique, follows that fairly is good; it features Kanye, Big Sean, and Jay-Z. The lineage in this track is fitting for the title of it. Jay was the one who found Kanye and helped launch his career; and eventually Kanye would help Big Sean launch his. The next few songs, Mercy, New god Flow, and The Morning, don't have the same feeling for me as the other two. However they did feature two members of the Wu-Tang Clan; Ghostface Killah and Raekwon. These two artists on New god Flow and The Morning were probably the best parts of these ones. Besides those legends, the only redeeming qualities of the three previous tracks are the addicting beats. That can be accredited to Kanye due to his work as a producer before turning rapper and you can see
how his work has evolved from his previous days until the present. The next track, Cold, is a braggart themed track but it doesn't feel off because of the way it's lyrically done. Unfortunately it has DJ Khaled listed on it, yet the only part that is his is when he yells his name at the beginning of it. Sadly, the next track is the lowest point of the album. Higher didn't do anything for me; lyrically or even with its beat. It was just an empty track. Fortunately, the album recovers well with the next few songs. Sin City, The One, Creepers, and Bliss all have the same feeling and blend well into each other. If the album ended on Bliss then that would have been good closure to this group's first album together. However, they go one further and finish with Don't Like. As stated in the songs title, they just list a bunch of stuff they don't like. Some of it can delve into higher territory lyrically but then it just drops back to a basic level. This is just my personal preference as well, but Kid Cudi wasn't given enough time on this album to fully show his style.
Overall this album was a little above average. They showed flashes of what they could do if they focused. However, there was never any true consistency between each song. If they focused on setting a theme along the way I think that would have worked out better. Songs like Higher and The One don't mix together or have anything in common about them. From the looks of it, they tried to please fans on either side. There are fans on one side who like the heavy beats and bragging lyrics. Then there are those who like more meaningful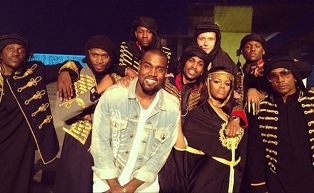 lyrics and beats that are simpler. Then again it is hard to mix artists of different styles to try and make a whole album. It worked out well for Jay-Z and Kanye on Watch the Throne because there were only two of them and they have similar styles. With over 20 artists listed on the album they did as good a job as possible. It's far from a disappointment, so if you're a fan of any one of these artists, you're in for some GOOD music.