September 24, 2012
by J.D. Cook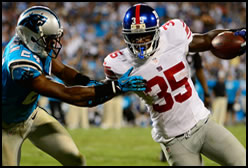 There is no way to put it nicely. Last Thursday the New York Giants destroyed the Carolina Panthers! Andre Brown ran like a beast up and down the field. He set the tone early running down a Carolina defender. Before the game all of the commentators I watched picked the Panthers! As a result the Giants crushed the Panthers in their mighty fist! Oh wait I picked Carolina to beat them in my first article? We'll just ignore that! No honestly I thought the Panthers would spread the injured Giants defense out and light them up in the passing game. Instead the Giants defensive line finally woke up and got a good deal of pressure on Cam Newton. Pierre-Paul looked like he did last season as he batted balls away from the line of scrimmage and nearly intercepted them.
Eli Manning looks like Aaron Rodgers of last year as he picks apart defenses. Ramses Barden was quite a surprise showing up for over 100 yards of receiving. He is another weapon for Manning to use in games going forward. The Giants now have three legitimate threats at Wide Receiver and a running back that bruises to complement Ahmad Bradshaw and David Wilson's speed. This week's showdown with the Eagles is going to be as big an early game as the Giants will have. Hopefully they lay a smack down on them the likes of the Cardinals. This game just showed the sports media that writing the Giants off early and putting the Cowboys on top of the East is a completely ridiculous concept.
~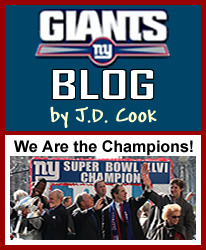 The Giants Blog is published every Monday during the NFL season while the New York Giants remain viable contenders (which in 2011 was right to the end and their Super Bowl championship). On the weeks when the Giants have a Monday night game, the blog will be published on Wednesday. The blogs are thoughtful (albeit heavily biased) analysis of the Giants' performance from our editor-in-chief and Giant fanatic J.D. Cook.