September 17, 2012
by J.D. Cook
Yesterday was as classic New York Giants as you can illustrate. The Gmen were down
and out early; only to thrive to an unbelievable finish. I saw it coming as I assured my friend at halftime of the Giants come back. As in the Cowboys game the team seemed to be playing fine. They just weren't scoring! Oh and Eli Manning threw those three interceptions. Those were all very ugly turnovers but the team's body language never admitted defeat. The lone bright spots of the first half were Cruz (playing in memory of his grandmother who taught him his famous salsa dance and passed away this past week), Nicks and the new running back Andre Brown. Nicks and Cruz just had to wake up and shake off their off season rust. Brown was a complete surprise to many fans and he reminded me of Derrick Ward in how he ran tough but didn't seem overly fast or strong. He will hopefully be a great balance for speed backs Ahmad Bradshaw and David Wilson.
The second half seemed to be straight out of the book of Eli. Manning threw for 510 yards and both Nicks and Cruz had near 200 yards receiving. This is the passing game fans know the team should have. I think a huge reason the passing game was able to strike was because of Brown who gave the team a viable threat on the ground. Of course I was extremely impressed with the Buccaneers. I have always viewed Freeman as a sort of lame duck quarterback but he really can play. Hopefully we see them down the road so we can pay them back for the late hit on Eli when he was kneeling down!
That said I have no problem with the Buccaneers trying to make a play at the end of the game. It's not a matter of class. It's a matter of a team wanting a win and miracles have happened in the Meadowlands before. Any team that is within a score of winning should do anything it can to get that score on the field. I'd hope if the roles were reversed it would be Pierre-Paul sending Freeman to the ground trying to force a fumble. That said when you do things like that players and teams remember and if you meet them again you must be prepared for on field retribution. MUHAHAHA!
Finally the Giants Defense is a lingering problem this year. I want the team to keep Umenyoria, Tuck and Pierre-Paul desperately. Unfortunately they don't seem to be doing a whole lot together. When three men of that amount of talent come together you expect a great deal more then the one sack the defensive line got. Blackburn had a lights out sack from the defensive middle though! I know the defensive back is beat up but the unit needs to come together a bit more before I can see us making a real run anywhere.
P.S.
Look who lost got crushed by the Seahawks! I knew the Cowboys weren't very good this year!
~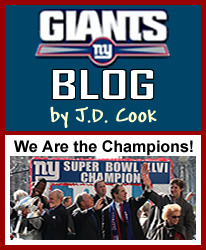 The Giants Blog is published every Monday during the NFL season while the New York Giants remain viable contenders (which in 2011 was right to the end and their Super Bowl championship). On the weeks when the Giants have a Monday night game, the blog will be published on Wednesday. The blogs are thoughtful (albeit heavily biased) analysis of the Giants' performance from our editor-in-chief and Giant fanatic J.D. Cook.