September 3, 2012
by J.D. Cook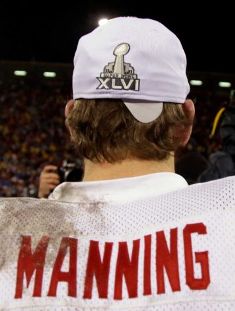 Last season was very nearly a carbon copy of the 2007 playoff run for the New York Giants, and for more than the obvious reasons. I was in my junior year of high school when they last one and my junior year of college this time. Both of those junior years sucked and the super bowl victories were lone bright spots! As for the obvious; they played the pats in the super bowl again, won the NFC championship in overtime…again, and beat a heavily favored division champion AGAIN. There is one thing the sports media has largely ignored. This blog started with the Giants mid-season victory over the Patriots where I announced something I had long felt, that Eli Manning was the league's true gunslinger. Then I wrote about how great the game against the 49ers was the next week and how I was certain the two teams would play again with the super bowl on the line. Was it just coincidence that my first two blogs were the last two teams the Giants played? I think not! My precognition powers are proven and ESPN should give me my due!
Now in all seriousness; the Giants are in a great position to repeat. Just like the 07' team they won the super bowl young. In theory this means they are only going to get better and thankfully there is now no Burress (or should I say duress?!) on the team to single handedly dismantle our repeat chances. I think this team will do what the 07' team did not and be the first Giants team to win the super bowl in back to back years.
Adding to the Gmen's chances is what looks like a solid rookie class. Ahmad Bradshaw didn't look as good as he used to last season. 1st round pick David Wilson should lighten his load and give the team the explosive back it needs. People seem to forget that the Giants won the crown with virtually no running game last year. 2nd round pick Rueben Randle should add depth to the wide receiver core but I wouldn't expect much playing time for him considering the talented wide receivers' in front of him. Our 3rd and 4th round picks Jayron Hosley, and Adrien Robinson could quickly step into large roles as we are a bit thin at CB and TE respectively. The second 4th round pick along with the 6th round pick (Brandon Mosely and Matt McCants) may see a varying degree of playing time depending on the health of the current O line which had its share of issues last year. Finally 7th round pick Markus Kuhn from NC State should show up a few times as the defensive line is constantly interchanging.
Now for the daring bit which will prove how untrue my precognitive skills are. I'm going to give a quick look pick of each Giants game as a win or loss with a short explanation.
Week 1
Wed, Sep 5th 8:30 – Big Blue vs Dallas (W)
This is probably the game I'm most torn on. Part of me says a week one loss is definitely possible and great fuel for the season. The other says a championship team would win this.
Week 2
Sun, Sep 16th 1:00 – Big Blue vs Tampa Bay (W)
Sorry Tampa I do not think this will be your year for a huge turnaround. Feel free to make me eat my words.
Week 3
Sun, Sep 20th 8:20 – Big Blue @ Carolina (L)
The Giants have always had problems with high powered offenses. I think Carolina hands them there first L in an upset.
Week 4
Sun, Sep 30th 8:30 – Big Blue @Philadelphia (W)
I hate no team more than the Eagles; having grown up in Pennsylvania and attended two Gmen / Eagles showdowns at Veterans Stadium and the Linc' respectively. I think they will split the series with each winning on the other's turf.
Week 5
Sun, Oct 7th – 1:00 Big Blue vs Cleveland (W)
Eeee Cleveland…sorry guys…The Giants do have a knack for head scratching losses but this would be beyond head scratching. You never know what can happen on any given Sunday though.
 Week 6
Sun, Oct 14th 4:25 – Big Blue @ San Francisco (W)
Rematch of the year! I think the Giants have the edge after their victory in the Championship game.
 Week 7
Sun, Oct 21st 1:00 – Big Blue vs Washington (W)
Almost as bad as Cleveland…I'm still wondering how they beat us twice last year.
 Week 8
Sun, Oct 28th 4:25 – Big Blue @ Dallas (W)
I'm sure ESPN and the NFL Network will be in Dallas Hype Central around this time of year but I expect them to be the dud of the East…like they've been for two seasons. Plus I hate them almost as much as the Eagles; they just have nicer fans in my experience. The kind you want so badly to hate but just can't because they are generally nice people. Darn you Cowboy fans!
 Week 9
Sun, Nov 4th 4:25 – Big Blue vs Pittsburgh (W)
Last time these two teams faced off post super bowl the Giants showed them who the true defense to be feared was. I expect the same!
 Week 10
Sun, Nov 11th 1:00 – Big Blue @Cincinnati (W)
Remember when the Bengals had Carson Palmer and Ocho and were supposed to be the bubble team? Me neither.
 BYE WEEK
 Great place for a bye week! The team can recharge and make its final push to the playoffs!
 Week 12
Sun, Nov 25th 8:20 – Big Blue vs Green Bay (L)
I really want to say we'll win the rematch but Aaron Rodgers and the Packers could earn a major victory for seeding in the playoffs here.
 Week 13
Mon, Dec 3rd 8:30 – Big Blue @Washington (L)
Late season slide?! The Giants always seem to lose to the Skins in December! Anyone remember that game where Eli set a record for incompletions? I still have nightmares!
Week 14
Sun, Dec 9th 4:25 – Big Blue vs New Orleans (L)
Ok now Bigblue is in a heap of trouble. New Orleans may have coaching troubles but they have consistently clobbered us in the era of Brees. Hopefully we change that but the safe moneys on a loss.
 Week 15
Sun, Dec 16th 1:00 – Big Blue @Atlanta (W)
Hurray late season slide disaster averted! I feel like they do not match up well against us; especially in playoff season.
 Week 16
Sun, Dec 23rd 1:00 – Big Blue @Baltimore (W)
Back to back Manning's will prove to be too much for the Ravens…hopefully.
 Week 17
Sun, Dec 30th 1:00 – Big Blue vs Philadelphia (L)
I have a feeling Philly will be the surprise team this year. They were extremely overhyped last year but this season no one seems to be discussing the 'dream team' as much. If the playoffs are on the line the Gmen might limp into the playoffs whilst giving the Eagles a birth. I hope not though. I truly despise Vick (One day the Browns will take their revenge!)
Final Record 11-5 with the 1st or 2nd seed in the playoffs then a repeat Super Bowl! Maybe this is just a fan's wishful picking, but I feel like I've been pretty accurate with my assessment of the Gmen in the past. Only time will tell! I'm excited for the season opener! Let's go Big Blue (Bullfrog)!
~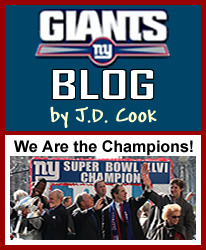 The Giants Blog is published every Monday during the NFL season while the New York Giants remain viable contenders (which in 2011 was right to the end and their Super Bowl championship). On the weeks when the Giants have a Monday night game, the blog will be published on Wednesday. The blogs are thoughtful (albeit heavily biased) analysis of the Giants' performance from our editor-in-chief and Giant fanatic J.D. Cook.