In the Alternative Universe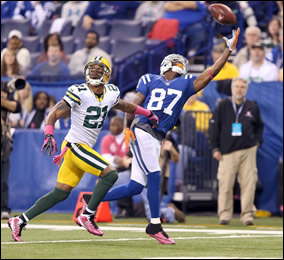 After the Indianapolis Colts rallied back from a 21-3 halftime deficit to comeback and defeat the Green Bay Packers on Sunday, ESPN's Chris Berman made a startling predicition. Berman predicted that this game would be remembered by Colts fans forever because of a confluence of conditions including this being rookie Andrew Luck's first career comeback and big game statistically, one of the greatest performances ever by veteran superstar Reggie Wayne, and most importantly, this game was dedicated to Colt's head coach Chuck Pagano, who is currently on leave while he receives treatment for luekemia.
The thing about Berman's prediction is that, over time, it is provable and someday it will be proven either right or wrong and Berman will look either wise or foolish. But to me this is much more courageous than the other trend of creating alternative universes to set up totally unprovable prognostications.
Last week the NFL Network show A Football Life had a show dedicated to the 1995 Cleveland Browns, a Bill Belichick coached team that seemed to be on the brink of greatness before it was leaked out that Art Modell would be moving to Baltimore at the end of the season and everything fell apart. The show featured many who said that Cleveland (who never made it to any Super Bowl) would have won their first Super Bowl had this unfortunate move not taken place. That team which moved became the Baltimore Ravens and they did win a Super Bowl five years later in 2000, but it is impossible to calculate all the little nuanced situations that went into that championship and whether the same exact results would have occured had the team stayed in Cleveland.
Some of the recent examples of this "alternate universe" phenomenon involve the "bad" calls by the replacement refs during the first three weeks of the season. We have all seen the horrible call on the final play that cost the Green Bay Packers the game a few weeks back against the Seattle Seahawks. After the Packers loss to the Colts this past Sunday, which dropped the team's record to 2-3, I heard an analyst state that Green Bay is "actually 3-2 when you consider the Seattle game". No they're not. In real reality, the Green Bay Packers lost that game, bad call or not, and they are 2-3 and a couple games behind Chicago and Minnesota in the division.
Let's face it, bad calls have always been an unfortunate part of the game and they have shaped some of the history of the NFL. In fact, if there had been a replay rule in 1972 it is likely that one of the most famous plays in NFL history, Franco Harris's "Immaculate Reception" would have been overturned "upon further review" because (as the Oakland Raiders have long contested) the ball was illegally touched by John "Frenchy" Fuqua before it was snagged in mid air by Harris. That play gave the Steelers their first playoff win ever and is credited as the first great moment in their dynasty which went on to win four Super Bowls later in the decade. Chris Berman now predicts that the Colts win this past Sunday will be looked at as a similar starting point for great moments ahead for that team.
But how would have football history been different if the Immaculate Reception was just another big play overturned by replay? Now, there is an alternative universe scenario to think about.
~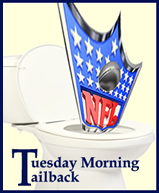 Tuesday Morning Tailback is a weekly article during football season which take a critical look at the NFL. We do this from the base belief that NFL football is the greatest game in the history of mankind, but some recent policies and the overall direction of the league has chipped away at this greatness. Our primary goal is to spark debate on these subjects, so please leave your own opinion on this article in the comment box below.