Giants SHOCKED by Chargers
by J.D. Cook
Final Score: NY Giants 14 San Diego Chargers 37
Well the Giants game was such a blow out that Fox actually took the game off of my television today. Sad but I was just about to start writing this article anyway so it sort of worked out. This is essentially the literal end of the Giants playoff chances. On a personal note it bothers me that Eli Manning has yet to beat the San Diego 'stupid' Chargers. I don't really dislike the Chargers as an organization but when a player like Manning shuns them for my team I want him to lead my team in a glorious slaughter of the team he shunned to prove once and for all that we got the better end of the deal. That said we of course did get the better end of the deal. Philip River's numbers are great and all but he doesn't have a single ring to show for them where as Eli Manning delivered two. I know, it's wrong to quantify people by things like this but well…its sports and we do that a lot.
I really wish I had more to say about the actual game. The Chargers essentially dominated the first half. Justin Tuck had one good sack further increasing my stock in the let's give him another year corporation. Other than that the defense seemed completely unable to stop the Chargers rushing attack. It was so bad I don't really have any suggestions as to what they could have done better. On offense the same problems plagued us, mainly Eli Manning's complete and total melt down this year. He had a few good passes but he just doesn't seem to have any confidence. He holds the ball too long and almost never attempts any intermediate passes. He either lobs it deep or stays short. The middle passes are where first downs are had and I think the lack of them is a big reason we are not converting on third down nearly enough. There are few bigger Eli Manning fan's then me out there, I even got his autograph, but I really don't know how this situation changes. This is his worst year statistically since his rookie year and it just doesn't seem like there was anything that really spurred on his sudden regression. I guess we should get a new Quarterbacks coach in the off season but if that doesn't help and Manning has another lack luster season what then?
This year has pretty much been a train wreck. I tried to keep hopeful through the six game losing streak but all of the true Giant's fans out there knew the season was over afterwards. I mean it really would have been an amazing thing if they had come back from that and it looked in the realm of possibility until the loss to Dallas 'America's Bane'. Now we just have to go into the off season and rebuild. I think the Giants have an ok defense that can be tightened up to be a very good defense. The front four needs a big injection of youth. On offense we need to find an excellent tight end who can be a release valve for Eli Manning. He has had two big targets all season and no one to get him first downs. We need a Receiver like Amani Toomer or Steve Smith who is always there in the clutch.  Anyway the best part about football is that there is always next year. As of now I guess I'm going to start looking forward to Free Agency and the Draft. That said I would love a moral victory over the Seattle Seahawks next week. It doesn't seem likely given the way San Diego man handled us but hell, any given Sunday, am I right?
***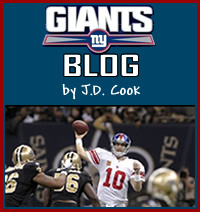 The Giants Blog is published every Monday during the NFL season while the New York Giants remain viable contenders (which in 2011 was right to the end and their Super Bowl championship). On the weeks when the Giants have a Monday night game, the blog will be published on Wednesday. The blogs are thoughtful (albeit heavily biased) analysis of the Giants' performance from our editor-in-chief and Giant fanatic J.D. Cook.
Other Sports Related Articles