by Tuesday Morning Tailback
There was so much football this past weekend that I felt like I was intoxicated on football at times. Today I'll talk about both the NFL and college football as all the meaningful contests seemed to arrive like a tornado. I do really enjoy the blitz of featured games over the opening NFL weekend and important second weekend of college action. However, this is almost too top-heavy as then we'll head towards the doldrums of bye weeks during "pink" October. But anyway, back to the positive action.
Notre Dame crushed Michigan 31-0, in what was the final meeting in this legendary series. In recent years, this annual game has symbolized the beginning of "the real thing" for me, as it has always been scheduled for the second weekend of college football, which lands right on the Saturday before the first Sunday of the NFL. This tradition will be sorely missed in future seasons. However, this particular game on Saturday was really fun, due to the fact that I love Notre Dame and loathe Michigan and, in the 42-game history of this legendary series, this last one was the first ever Notre Dame shutout! In other college highlights from Saturday, Virginia Tech's defense was impressive in their win over Ohio State, Oregon had a great comeback against Michigan State, and Brent Musburger was relegated to calling the Sam Houston State game. Nice!
After a ho-hum Thursday night opener in Seattle, the initial NFL Sunday was pretty exciting through the early games and Sunday night showcase. The problem was the vast imbalance in scheduling with ten early games and only two boring blowouts at 4:25, which really killed the momentum of the day, but allowed me to get some real work done.
Week 1 Most Important Wins
Miami Dolphins – Not only coming back from way down against the kings of the division, but totally shutting down the Patriots in the second half, has got to be the most positive of starts for the 2014 Miami Dolphins.
Buffalo Bills – The Bills defense hung tough against the potent Bears offense, giving up a couple of leads in the second half but not letting them get ahead, which allowed the Bills offense to shine in overtime and get the road victory.
Philadelphia Eagles – Sometimes just avoiding disaster can be a very positive result – countless championship runs have such moments. Even though the Eagles were the most heavily favored team of the weekend, their second half comeback is still impressive.
Arizona Cardinals – Speaking of late comebacks, last night's 4th quarter rally by Carson Palmer erased an 11 point deficit. Chris Berman wisely pointed out that the West divisions facing each other this year may eliminate one or two of the top teams from the playoffs. The Cardinals may have staved that off in week one
Denver Broncos – Andrew Luck played a great game for the Colts on Sunday night, but it was Denver's defense that ultimately stopped him, led by two interceptions from Rahim Moore, who had been injured last year.
Week 1 Most Devastating Losses
While there was much disappointment across league, the only really devastating losses I see our those by the two Missouri teams, the St. Louis Rams and the Kansas City Chiefs. Both teams showed great promise coming out of last season, but got routed in their home opener by average to mediocre teams. In the case of the Chiefs, they were literally playing in an empty stadium late in the game while there was still a very slight chance of a comeback.
What I'm Looking Forward To In Week 2
Miami @ Buffalo – Which team will emerge as the biggest early season surprise and, perhaps, take the early reigns in the AFC East?
Dallas @ Tennessee – Just how good are the Titans after their win in Kansas City? Just how bad are the Cowboys following their home route to San Francisco? This game will be a curiosity.
Philadelphia @ Indianapolis – It will definitely be fun to see these two offenses square off next Monday night!
A Few Final Notes…
First, there were some players it was really good to see have a major impact on their game. Steve Smith's great TD late in the game for Baltimore shows he still a top talent, as is Fred Jackson, who had a great run in overtime, setting up the Bills' winning field goal. And I honestly thought Derek Anderson was long gone, but there he was, filling in last minute for Cam Newton and leading the Panthers to a divisional road victory in Tampa.
Finally, I would be remiss if I didn't mention the late developing Ray Rice news. All I can say is that I ultimately agree with the Ravens' decision to release him, but I am baffled by the need for a second video to get this done. I mean, he already copped to the assault. Just what did we think assault looked like before? OK, no more on that subject. Until next Tuesday…
~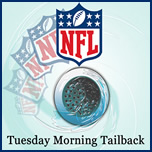 Tuesday Morning Tailback is a weekly article during football season which take a critical look at the NFL. We do this from the base belief that NFL football is the greatest game in the history of mankind, but some recent policies and the overall direction of the league has chipped away at this greatness. Our primary goal is to spark debate on these subjects, so please leave your own opinion on this article in the comment box below.
Other Sports Related Articles