Wake Me Up When September Ends
by Tuesday Morning Tailback
There will be no Tuesday Morning Tailback next week to make way for the official launch of The River of Rock, a worldwide music and entertainment network to which Big Blue Bullfrog will be affiliated. Further, it is hard to consider this upcoming week a real football week anyway, as six teams will be idle and there really doesn't seem to be too many good match-ups anyway.
That being said, here is my analysis from week 3.
Week 3 Most Important Wins
Arizona Cardinals – The Cardinals third straight come-from behind victory is heightened by the fact they got a crucial division win against the mighty 49ers. Further, the Cardinals did it with a backup quarterback
Pittsburgh Steelers – I really didn't expect much from the Steelers heading into a primetime game against (then) undefeated Carolina. But Pittsburgh won convincingly, and put themselves right back within the mix in the tough AFC North.
New York Giants – The Giants got a crucial home win to stop the bleeding and avoided another 0-6 start. Now, if the Gmen could just get some consistency…
Cincinnati Bengals – The Bengals dominated the Tennessee Titans and looked like they had a hell of a lot of fun doing it. Of course, none of this matters if the defending NFC North chanps can't figure out how to win in January, something Cincinnati hasn't done in about a quarter century.
Seattle Seahawks – They nearly blew it and looked absolutely befuddled when Peyton Manning drove down the field to tie the game with seconds left. But the bottom line is, the defending champs got the job done in overtime in the kind of games they'll need to win to repeat.
Week 3 Most Devastating Losses
Not to sound repetitive, but I am now going to repeat myself. This week, I'll once again choose the San Francisco 49ers and the Tampa Bay Buccaneers for most devastating losses. For Tampa Bay it was easy and obvious, there was barely a minute of competitive action in their 56-14 loss at Atlanta and the team looks to be in as bad of shape as anyone. The 49ers situation is a little different, as they have dug themselves into a bit of a hole early in the season when they had a chance to move into a tie for first place with a win at Arizona, against a division rival starting a backup QB.
What I'm Looking Forward To In Weeks 4 and 5
Green Bay @ Chicago (Week 4) – As the Bears have seemed to get things together and the Packers seem to be reeling, it will be interesting to see if this trend continues or Green Bay turns things around.
Arizona @ Denver (Week 5) – Both these teams have a bye week this week, but will return for a late afternoon showdown on October 5th. This will be a true test for the undefeated Cardinals, who already have a couple of impressive wins under their belts.
Cincinnati @ New England (Week 5) – The Bengals look like the most solid team thus far this young season. After a bye week, they face a true test in Foxboro on a prime time Sunday night.
It Was Really Nice to See…
Steve Smith (again) – 2 weeks ago, Smith scored the go-ahead touchdown late in the fourth quarter against Cincinnati, but the Bengals ultimately came back to win. This week, he caught a big pass to setup a winning field goal by Justin Tucker.
Devin Hester – The new Atlanta Falcon breaks Deon Sanders all-time return TDs record in the "house that Sanders built" and with Sanders on the sideline. You just cannot script this stuff, folks.
See you for our next installment on Tuesday, October 7th!
~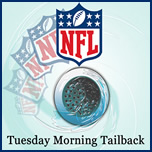 Tuesday Morning Tailback is a weekly article during football season which take a critical look at the NFL. We do this from the base belief that NFL football is the greatest game in the history of mankind, but some recent policies and the overall direction of the league has chipped away at this greatness. Our primary goal is to spark debate on these subjects, so please leave your own opinion on this article in the comment box below.
Other Sports Related Articles