by: J.D. Cook
It's nice to be right but sometimes it's better to be wrong. I predicted this week's game against the Redskins would be the Giants first victory of the season. Well I was wrong. The victory was the Giants second and brought their record to two wins and two losses.
The Positives
Everything? Seriously the Giants haven't had a more solid game in years. Many of the things bubbling under the surface stretching back to last season finally burst forward tonight. Eli Manning had a game where he got good protection throughout and his wide receivers caught almost everything thrown to them. He has played at a consistently high level since he entered the league but for some reason the N.F.L. Media never stops whining about how bad he is. They just seem to forget that he's led the Gmen to winning records in almost all of his seasons as a starter and two Super bowl victories. One of the reasons Eli looks so much better this year though? Larry Donnel! Manning has a long history of killing defenses if he has a clutch tight end and Donnel is doing just that. The defense was of course just as good as Eli shutting down the Redskins overrated offense and taking three interceptions in the third quarter.
The Negatives
The legend of Kurt Cousins died last night. It seems like all I heard going into this game was how good Cousins was and what a legend he was poised to become after a few decent weeks of football. The N.F.L. Media really needs to take some deep breaths when one of their new IT players shows up and instead of anointing them maybe they should step back and look at the big picture.
The Two Minute Drill
This was a huge win for the Giants. It evened out their record and gave them a one up in the division on the Redskins. Their new offense is hitting its stride and their defense has been consistently good in the Perry Fewell era. Unfortunately it's still very early in the season. I hope this is just the start of the Giant's victories because peaking now would be a bit of a let down.
Until Next Week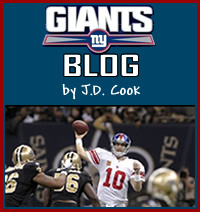 The Giants Blog is published every Monday during the NFL season while the New York Giants remain viable contenders (which in 2011 was right to the end and their Super Bowl championship). On the weeks when the Giants have a Monday night game, the blog will be published on Wednesday. The blogs are thoughtful (albeit heavily biased) analysis of the Giants' performance from our editor-in-chief and Giant fanatic J.D. Cook.
Other Sports Related Articles