Giants Kirk those Fal-KHANS
by J.D. Cook
Some consistency is a nice thing! After two straight wins we've now won 3 games and are heading into a huge division clash with the Philadelphia Eagles. Division match ups are hard to predict but the Eagles are the current top dogs and how we play against them will be a measure of our improvement since last year.
The Positives
The biggest positive of the game had to be the fact that we managed to sustain drives that ate away at the clock in the second half. Along with that the Defense got some rest in the second half so that when they got on the field they did nothing but hassle Matt Ryan. Odell Beckham Jr had his first touchdown and looked fast for having not played in months. Along with this fellow rookie Andre Williams showed the Giants they could still run the ball without Rashad Jennings illustrating some much needed depth.
The Negatives
Early in the game it looked like the Falcons could be in for a big day against us, as they were moving the ball up and down the field. Thankfully the defense tightened up and it didn't get out of hand but the Giants front four need to get more pressure. Along with this there were a few times it looked like the Giants could have converted easily if they ran the ball but instead chose to throw the ball. This did work on occasion but there were also times it didn't. I'd prefer to see the Giants with a run first mentality but the offense looks good this year so maybe I'm just old fashioned.
The Two Minute Drill
I love watching the Giants play the Eagles with the division on the line. My stomach tightens and I spew hatred for all things green…well not all things but definitely green things from Philadelphia. I'm itching to see if the Giants have what it takes to pluck those birds and if they don't I will be excited to see if the Gmen work hard enough to best them when they play later in the year.
Until Next Week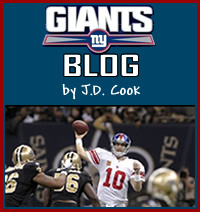 The Giants Blog is published every Monday during the NFL season while the New York Giants remain viable contenders (which in 2011 was right to the end and their Super Bowl championship). On the weeks when the Giants have a Monday night game, the blog will be published on Wednesday. The blogs are thoughtful (albeit heavily biased) analysis of the Giants' performance from our editor-in-chief and Giant fanatic J.D. Cook.
Other Sports Related Articles