by: J. D. Cook
It's taken me a few days to fully digest Sunday night's abysmal loss to the Philadelphia Eagles. The lack of scoring coupled with the loss of Victor Cruz is enough to send any fan into a minor writing coma. Thankfully I've recovered…but things still look bleak.
The Positives
We've already gotten one division win against the Washington Redskins so even with this horrid defeat we can still triumph in the East. That said the Dallas Cowboys suddenly look like they could be for real, although people were saying that about the Giants last week. The Giants defense earned my respect by hanging tough through the entire game. They limited the high flying Philly offense to 27 points and if the Giants had only scored one touchdown in every quarter we would have been one point victors. The Defense even had two pics and a sack but it was to no avail.
The Negatives
The offense…all of it. Manning's line broke down early in the game but it did manage to recover a bit. By the middle of the game they were giving him chances to throw but he looked so rattled that he wasn't taking any of them. Rookie Andre Williams was not enough of a factor to give the Gmen a ground game and the receivers were eliminated as factors in the game.
The Two Minute Drill
This week's showdown with the Cowboys puts the Gmen in the ultimate crunch time position. If we don't win there is a very real chance we will be 3-8 by the next time we play them in week 12. This is because after we play the Cowboys we go into a bye at almost the perfect time in the season but on the other side of it lies the Colts, Seahawks, 49ers and then the Cowboys again. Only time will tell if this team is made of true Giants.
Until Next Week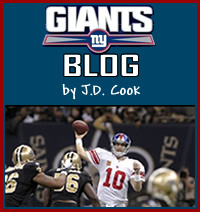 The Giants Blog is published every Monday during the NFL season while the New York Giants remain viable contenders (which in 2011 was right to the end and their Super Bowl championship). On the weeks when the Giants have a Monday night game, the blog will be published on Wednesday. The blogs are thoughtful (albeit heavily biased) analysis of the Giants' performance from our editor-in-chief and Giant fanatic J.D. Cook.
Other Sports Related Articles