by Tuesday Morning Tailback
Today we celebrate Veteran's Day across the country and the NFL has dedicated the month of November as a "Salute to Service". This is a noble cause and much less flamboyant than the "wear pink in October" campaign. In the spirit of this holiday, we'll do this short tribute to some of the most prominent NFL veterans.

Naturally, player conversations start with quarterbacks. And, while Aaron Rodgers is knocking on the door of this group (but not quite old enough), the four top veteran quarterbacks once again having an outstanding year in 2014 are Peyton Manning, Drew Brees, Ben Roethlisberger, and Tom Brady.
With the scandals involving Ray Rice and Adrian Peterson, 2014 has been an especially bad year for top-notch, veteran running backs. In fact, this may be the weakest lot of top-performing veteran running backs that we have seen in a long time, or are likely to see for a while with so much young talent at this position. Of those that are playing and performing well, Frank Gore of the 49ers remains a consistent workhorse, while journeyman Darren Sproles (aka "The Lightning Bug") of the Philadelphia Eagles has proven to make an impact with each team he has played.

A trio of legendary wide receivers continue to be highly productive in 2014, led by 35-year-old Steve Smith Sr., who has been spectacular in his initial year with the Baltimore Ravens after 13 years with the Carolina Panthers. Meanwhile, Larry Fitzgerald in Arizona and Reggie Wayne in Indianapolis look to be important parts of their teams' Super Bowl aspirations this season.
With the retirement of Tony Gonzalez after last season, there are two senior tight ends remaining, Antono Gates of San Diego and Jason Witten of Dallas. Although neither of these players have played in a Super Bowl, they have each been reliable and solid performers for their teams through thick and thin.
Moving away from the fantasy football skill positions, we have a trio of legends in the making on the defensive side. 6-time pro bowler Terrell Suggs is in his 12th season as a solid force on the Baltimore Ravens, while Julius Peppers is enjoying great success in his first year at Green Bay after a dozen years with Carolina and Chicago. The only defensive Heisman Trophy winner in modern history, Charles Woodson is the "grand daddy" of all top defensive players, now in his 17th season.
But the oldest living legend still playing in the NFL, may well be the finest player to ever play at his position. Further, our spotlight veteran this Veteran's Day may be the first and only kicker we feature in a positive light in a Tuesday Morning Tailback article.
41-year-old Adam Vinatieri has been a clutch kicker since 1996. Including that rookie season, Vinatieri has played in five Super Bowls, winning four rings through the 2000s with New England and Indianapolis. Two of those championships were the direct result of last-second field goals by "Automatic Adam", who's most incredible field goals came at the end or regulation and in overtime in a heavy blizzard during the 2001 AFC Divisional Playoffs. A sure-fire Hall-of-Famer, Vinatieri has an 83.3% lifetime field goal success rate and holds 5 postseason and Super Bowl records, including an incredible 14 field goals made during the Colts' 2006 Super Bowl run.
Will any of these veteran players make a Super Bowl run this season? We'll see over the next 80 days. One only has to look at the NBA champion San Antonio Spurs to see how valuable veteran leadership can be in winning a championship.
~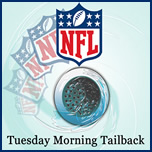 Tuesday Morning Tailback is a weekly article during football season which take a critical look at the NFL. We do this from the base belief that NFL football is the greatest game in the history of mankind, but some recent policies and the overall direction of the league has chipped away at this greatness. Our primary goal is to spark debate on these subjects, so please leave your own opinion on this article in the comment box below.
Other Sports Related Articles