Giants 2014 Season Wrap Up
by: J.D. Cook
There is only so much one person can write about a losing season. I learned this truth last year when I blogged about the Giants entire losing season. It was kept interesting by the fact that although we started poorly, we went on a late season run at the playoffs that came close to actually happening. This year there was no such magic to be had. We went on a longer losing streak that took us from in the heat of the playoff race straight out of it and then off a cliff for some good measure. So in that spirit I decided to write one final Giants blog about the second half of the Giants 2014 season and where they should go from here.
The Positives
Odell Beckham Jr., he provided a spark to the offense that propelled it on a late (if pointless) winning streak in December. The defense still looked pretty decent this year and I think the Giants have a solid secondary. The special teams also played a pretty good year as there were only a few instances of mistakes involving kick offs, kicks or punts in general. (This past week excluded, of course). Josh Brown actually had the highest success rate in terms of making field goals (92.3) of any Giants kicker in history. Eli Manning also had a fairly good year in terms of statistics throwing one less interception then his brother Peyton.
The Negatives
The Giants lost to every challenging opponent they faced this year. Starting with the Eagles they went on a seven game losing streak that made the 2014 season even worse than the 2013 season. The offense looked completely useless at times and the Giants run game didn't factor heavily into any of their contests this year. The defensive line failed to get enough sacks or pressure to make many big stops.
Two Minute Drill
Although I am fine with the Giants deciding to keep Tom Coughlin as their coach I am not sure how the team will improve next year. I don't think installing a new offensive coordinator would be the correct move either but it's hard to think someone shouldn't be let go after the Giants failed to improve after a terrible 2013 season. Beckham Jr. looked great this year but who knows if he will be as effective next year or fade as he gets older like Victor Cruz and Hakeem Nicks. Perhaps Beckham Jr's dominance this year will lead to a resurgent Cruz next year. If the Giants improve their defensive and offensive fronts and add a tough running back they should be back in contention next year. That said…I was hopeful going into this year after a dismal year before. I hope I'm not writing this same blog next year.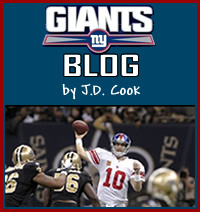 The Giants Blog is published every Monday during the NFL season while the New York Giants remain viable contenders (which in 2011 was right to the end and their Super Bowl championship). On the weeks when the Giants have a Monday night game, the blog will be published on Wednesday. The blogs are thoughtful (albeit heavily biased) analysis of the Giants' performance from our editor-in-chief and Giant fanatic J.D. Cook.
Other Sports Related Articles