Trimming the Weeds, part 2
by Tuesday Morning Tailback
In continuing the theme we started last week, Tuesday Morning Tailback will again look at the thinning out of playoff contenders as we head down the stretch of the 2014 season. After week 16, the Eagles fall to the ground is now complete, as they lost to the lowly Redskins on Saturday. Out of the rest of the teams we highlighted last week, the San Diego Chargers are the only ones who bucked the trend and bounced back into contention heading into the final Sunday of football. As it stands now, 16 teams are still alive with 10 of the 12 playoff spots clinched.
With Cincinnati's victory last night, five of the six spots in the AFC have now been clinched. The Bengals and Steelers will showdown for the AFC North championship, with the loser grabbing the first wildcard spot. The other wildcard spot is up for grabs among four teams, with Sand Diego leading the way and Baltimore, Houston, and Kansas City all still alive but needing help to make the playoffs.
Week 17 Games to watch in the AFC:
San Diego @ Kansas City (Sun 12/28, 1:00pm), Cincinnati @ Pittsburgh (Sun 12/28, 8:30pm)
In the NFC, Philadelphia's collapse cleared the way for Dallas to become the first team to clinch a division title. In the NFC West, the Seahawks gained the inside track to their title beat beating the Cardinals, although Arizona can still win that division. The final two divisions will be decided on the field (as it should be!) when Carolina travels to Atlanta early on Sunday and Detroit goes to Green Bay later. This ought to be fun.
Week 17 Games to watch in the NFC:
Carolina @ Atlanta (Sun 12/28, 1:00pm), Detroit @ Green Bay (Sun 12/21, 4:30pm)
Join us next week for our playoff preview!
~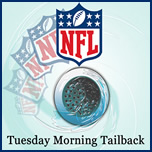 Tuesday Morning Tailback is a weekly article during football season which take a critical look at the NFL. We do this from the base belief that NFL football is the greatest game in the history of mankind, but some recent policies and the overall direction of the league has chipped away at this greatness. Our primary goal is to spark debate on these subjects, so please leave your own opinion on this article in the comment box below.
Other Sports Related Articles