Trimming the Weeds, part 1
by Tuesday Morning Tailback
Just a few weeks ago, things looked pretty good for the Philadelphia Eagles, San Francisco 49ers, San Diego Chargers, Miami Dolphins, and Cleveland Browns. During this season, each of these teams showed flashes of brilliance and have, at times, far exceeded expectations. However, after each have lost multiple consecutive games, playoff possibilities seem more remote. Over the next couple of weeks, Tuesday Morning Tailback will examine the "weeding" out as the NFL works towards its dozen playoff teams.
Coming in to the past Week 15, exactly zero playoff positions were clinched. After this weekend, four of the twelve spots have been clinched, with New England, Indianapolis, and Denver each winning their divisions in the AFC and Arizona clinching a playoff position in the NFC. With nine teams mathematically eliminated, that leaves nineteen teams scrambling for the final eight playoff spots.
Although three spots have already been clinched, the AFC is more wide open with nine teams still alive for the final three spots. Of these, the afore-mentioned Dolphins, Browns, and Chargers (along with the Texans) have the most remote shots of gaining a spot, with each needing small miracles to fall into place in the final two weeks. In mid-November, each of these three seemed like pleasant surprises with solid shots at getting to the postseason. Cleveland had a solid win in Cincinnati on November 6th, which made them 6-3 and alone in first place in the AFC North. But since then, the Browns have lost four of five games, including an embarrassing 30-0 shut out at home this past week to those very same Bengals. Both Miami and San Diego controlled their own destiny 10 days ago but both have lost badly two weeks in a row and given their respective divisions to the Patriots and Broncos. On the positive side, the teams that still control their own destiny are the Bengals, Steelers, and Ravens, who can each still win the AFC North or a Wildcard spot, and the Kansas city Chiefs, who may also get a Wildcard spot.
Week 16 Games to watch in the AFC:
Kansas City @ Pittsburgh (Sun 12/21, 1:00pm), Denver @ Cincinnati (Mon 12/22, 8:30pm)
In contrast to the AFC, the NFC has a narrower field but more open spots, with no division title yet clinched. the fascinating anomaly here is the NFC South, where three teams with losing records (New Orleans, Carolina, Atlanta) are alive for the one division title. After crushing Dallas on Thanksgiving, Philadelphia seemed like a shoe-in for the NFC East division, but they have since lost two important games at home (including to those same Cowboys) and now need help to even make the playoffs. The 49ers have completely collapsed, leaving this week's showdown between the Seahawks and Cardinals the lone game of importance in what had once seemed to be a wild scramble among three teams for the NFC West. Likewise in the NFC North, the final week game between Detroit and Green Bay will probably decide that division.
Week 16 Games to watch in the NFC:
Atlanta @ New Orleans (Sun 12/21, 1:00pm), Seattle @ Arizona (Sun 12/21, 8:30pm)
These final weeks of football are always a lot of fun!
~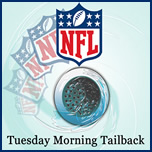 Tuesday Morning Tailback is a weekly article during football season which take a critical look at the NFL. We do this from the base belief that NFL football is the greatest game in the history of mankind, but some recent policies and the overall direction of the league has chipped away at this greatness. Our primary goal is to spark debate on these subjects, so please leave your own opinion on this article in the comment box below.
Other Sports Related Articles