by Tuesday Morning Tailback
Last night, the Green Bay Packers looked to be well on their way to another hometown slaughter as they led the Atlanta Falcons 31-7 at halftime. However, the Falcons came alive in the second half, scoring 31 points of their own in that half, before barely losing the game 43-37. The end result was an exciting game that was an important win for the Packers in their pursuit of the playoffs. However, if this was a College football scenario, Green Bay would have slipped 4 or 5 spots in the ratings or been deemed "unworthy" for the postseason by some bullshit, behind-doors committee.
Take what happened this past week when the pathetic Big Ten had Wisconsin lay day just so Ohio State could run up the score and be ushered in as a New Year's night cupcake to be served up for Alabama. Meanwhile, TCU and Baylor, two teams either of which crush Ohio State on any field, are left on the outs of this new "playoff" system and will be instead playing in Bowl games equally as unimportant as the one that 59-0 losers Wisconsin will be playing. Either TCU or Baylor would put up a much better challenge against Alabama, but those are matchups we'll never see because it would put the SEC superiority "mystique" on the line and the Big Ten, while increasingly pathetic on the football field, still has a tremendous amount of political pull. So this year, what should be a celebrated arrival of a college football playoff system will be just another unsatisfying pander to the big and popular schools. The truth is real competition is not what College football is all about. It is all one big pageant, an exhibition.
So with this comparison in mind, I'd like to praise the NFL for its solid use of metrics in their extensive tiebreaking system. This system has been in place for decades and is utterly non-controversial as it uses common sense metrics for breaking ties between two teams or among three or more teams, within a division or a conference. It starts with head-to-head competition and works its way down a hierarchy of metrics to coldly and un-subjectively determine final standings, playoff seedings, and draft order.
All that being said, no team has clinched a single playoff position through fourteen weeks of NFL football. This makes the final three weeks all the more exciting and consequential, with absolutely no provisions for "style points".
~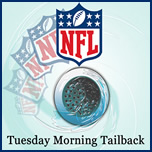 Tuesday Morning Tailback is a weekly article during football season which take a critical look at the NFL. We do this from the base belief that NFL football is the greatest game in the history of mankind, but some recent policies and the overall direction of the league has chipped away at this greatness. Our primary goal is to spark debate on these subjects, so please leave your own opinion on this article in the comment box below.
Other Sports Related Articles