October 30, 2012
Dolphins Flying In the Sky
Ric Albano
The Miami Dolphins defeated the New York Jets 30 to 9 on Sunday in the Jets home stadium. There was a lot of nervousness in the stadium because a hurricane was rapidly approaching.

October 29, 2012
Giant Heartstopper
J.D. Cook
Ugly game with tons of ups and downs but a win is a win is a win.

October 28, 2012
NBA 2K13
Oliver Layco
The NBA 2K series continues to dominate the basketball simulation world! Is it over-hyped or is it worth the expectations?? Read on to find out!!
October 27, 2012
Jude the Obscure Review
J.D. Cook
Thomas Hardy was a Victorian novelist who served as one of the vanguards of the Modern era. Read about one of his most famous works here.

October 26, 2012
Resident Evil 5
J.D. Cook
This game had tons of expectations when it was released. Did it live up to them?

October 25, 2012
A.H.S. 'Ripped Open' 2
J.D. Cook
The second episode continued the furious pace of horror in this season but did you miss anything? Find out here!

October 24, 2012
Resident Evil 4
J.D. Cook
A quick review of the most critically lauded game of the series but does it pass our high standards?

October 23, 2012
Uncharted: Drake's Fortune
Oliver Layco
A quick recap of Nathan Drake's first adventure on the PS3!! See if your thoughts match up with ours!!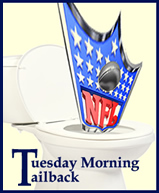 October 23, 2012
Parity or Mediocrity?
Ric Albano
The NFL has long had a policy on parity as it is generally felt that games take on more importance when more teams have a legitimate chance at a championship.

October 22, 2012
Don't Snooze on the Skins
J.D. Cook
Robert Griffin III has shown that flash is great, but grit is what the Giants are made of!

October 18, 2012
Obama Thinks Women Are Stupid
Karyn Albano
An obscure comment by Mitt Romney at this past Tuesday's presidential debate has been inflated by the Obama campaign and his cheerleaders in the media.

October 18, 2012
A.H.S 'Ripped Open'
J.D. Cook
The first episode has come and gone! Care to delve deeper? Read more about the show here and join us as we unravel the shows insides.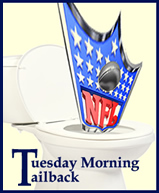 October 16, 2012
I'll Be Back
Ric Albano
Peyton Manning is not done yet. Last night's incredible second half comeback makes that point absolutely clear.

October 15, 2012
Giants Assert Dominance
J.D. Cook
The Offense won the last game; this time it was the defense's turn!

October 13, 2012
Resident Evil 3: Nemesis
J.D. Cook
Maybe the scariest game of the series to the point of it's creation. Any Resident Evil fans care to weigh in?

October 11, 2012
Resident Evil 2
J.D. Cook
Arguably the best game ever made for the PlayStation! Agree? Disagree? Debate the point here!

October 10, 2012
Food & Liquor II: The Great American Rap Album Pt. I
Oliver Layco
Lupe Fiasco's follow up album to Lasers is out!! Does Food & Liquor II live up to his fans expectations or does it fall short?? Read on to find out!!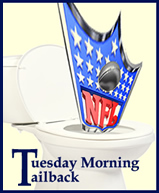 October 9, 2012
In the Alternative Universe
Ric Albano
There is this growing trend of creating alternative universes to set up totally unprovable prognostications.

October 8, 2012
Giant Leash on the Browns
J.D. Cook
Dominating performance by the Giants despite stumbling out of the gate.
October 7, 2012
Jay-Z Barclays Center Finale
Oliver Layco
Jay-Z performed the final opening show of the new Barclays Center in Brooklyn. Needless to say, it was a performance worthy of legends!!

October 4, 2012
Clear and Unfiltered
Ric Albano
With the first presidential debate last night in Denver, the fog of deception that was fabricated to make Mitt Romney look like he is an unacceptable choice for the highest office in the land has been permanently dispensed.

October 3, 2012
Resident Evil: Director's Cut
J.D. Cook
Although it can only truly be judged by its own time, the first truly great survival horror game holds up to this day.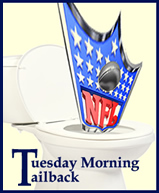 October 2, 2012
October Skies
Ric Albano
The calendar has turned to October and there is daily evidence that summer is over and football season is truly here.

October 1, 2012
Taunted by the Birds
J.D. Cook
Frustrating defeat to an Eagles team that gave the Giants every opportunity to defeat them.
Big Blue Bullfrog Archives