by: J.D. Cook
Last week I sang the praises of the New York Giants for their respectable loss to the Arizona Cardinals. My argument was simple; the loss to the Cardinals could be built on. The New York Giants did just that trouncing the Houston Texans handily this week. I'm almost ashamed to say I didn't think we'd win this game. While I certainly thought we had the potential to defeat them I didn't know if we had the will. Thankfully we did!
The Positives
Rashad Jennings ALL DAY! The man was a beast and finally showed fans and the organization why he was hired rushing for 176 yards and a touchdown. The offensive line also looked great protecting Manning well against a good Houston defensive rush whilst opening huge lanes for Jennings to gallop through. Even the nearly forgotten Victor Cruz finally emerged and scored a nice touchdown to get the scoring started. On top of that the defense hammered the Texans offense snagging three picks and nearly running one back to the house. Rogers-Cromartie was another recently acquired player who showed what he was worth today!
The Negatives
The Giants have a short week in which to prepare for a Washington Redskins squad that looks about three times as good as they did in week one. They will be hungry for a win after coming so close to knocking off the Philadelphia Eagles this week. The Giants were also not tested in crunch time this week. It's a good thing to put your opponent away and keep them there but at the same time I need to see the Giants put together a solid must have drive down the field this year.
The Two Minute Drill
It's great to not be staring 0-6 in the face this year! I never stopped believing in this team in the darkest times and it's been frustrating listening to some Giants fans belittle the team or predict another terrible year based off their 0-2 start. Every N.F.L. year is a self-contained season with its own ups and downs. This week may very well end with the Giants sitting at 500 raising their record to 2-2 with a win over the Redskins. While it's certainly too early to be predicting a super bowl appearance I for one would love seeing Coughlin end his final year by driving the Giants into the playoffs.
Until Next Week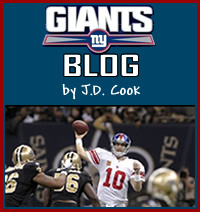 The Giants Blog is published every Monday during the NFL season while the New York Giants remain viable contenders (which in 2011 was right to the end and their Super Bowl championship). On the weeks when the Giants have a Monday night game, the blog will be published on Wednesday. The blogs are thoughtful (albeit heavily biased) analysis of the Giants' performance from our editor-in-chief and Giant fanatic J.D. Cook.
Other Sports Related Articles