by J.D. Cook
So in some ways 0-8-4 was a bottle episode. It started all big and mysterious inside the jungles of Peru before moving inside the Shield airplane for the majority of the episode. I'm not complaining at all I love a good bottle episode! I mean the last great bottle episode was in Community where they had Abed state that it was a bottle episode thus giving me the term to use forever because before that I had no idea there was a name for episodes where characters got stuck somewhere and hashed out issues. 0-8-4 is primarily about the Agents of Shield functioning together. Since their first outing was in the first episode and it simply brought them together they had to start working past their issues and developing as characters in the second episode and they did just that.
Spoilers Below
Brett Dalton's Agent Grant Ward spent the majority of the episode being a complete hard ass and ignoring the teams input for the most part while Iain De Caestecker's Fitz failed to properly communicate with the team. These two were the most polarized while the rest of the group kind of fell between them. We actually got a good amount of character development on Agent Coulson while he was talking with his ex-flame turned adversary Reyes. It was revealed his motives for leading this team were essentially due to his near death experience and that it's something of a midlife crisis reaction. My favorite bit was the mentions of Melinda May's (Ming-Na Wen) bad ass past as 'the cavalry', her former nickname among Shield. Eventually the whole group came together and saved the day in heroic fashion. Although the newest member was revealed to be a spy!
My only complaint and it's not really a complaint so much as a, 'hey hope the show goes this way', is that things have been a bit too tied to the Marvel Cinematic Universe.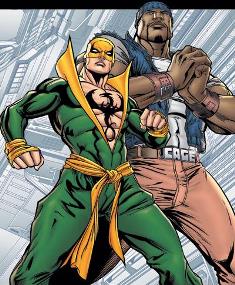 I'm really hoping that we get some things from the comics that make their appearance for the first time in television. Characters like Luke Cage and Iron Fist, the heroes for hire would make a perfect subject for investigation in a future episode. There are plenty of other characters and objects that could appear in the show from the comics! I liked the mention of the Tesseract as having powered the 0-8-4 but at the same time I felt like as a viewer I've seen enough of Tesseract powered weapons in Captain America. It was pretty cool how they resolved its destruction though. Sending stuff into the sun is always a good solution for bad things in my book.
All of this said there was really one scene that stole the show. A surprise cameo by none other than an angry Samuel L. Jackson playing an angry Nick Fury! It was hilarious and his dialogue alone was enough to make the episode fantastic! So go watch it on ABC. Com or Hulu!
Other Episodes of Marvel's Agents of S.H.I.E.L.D.
Other Comic Book Related Articles
Top 7 Venom Story Arc Countdown
The Avengers Age of Ultron Preview
Batman Vs Superman Preview
Comic Book Commentary
God Cell: Gate of the Gods
Articles from Around the Web