by J.D. Cook
Nestled between the various fine eateries and state offices of Strawberry Square in downtown Harrisburg you can find a little store with a singular purpose. The selling of those fabled magazines we call comic books. I was in Strawberry Square one day for a completely separate purpose when I first spotted the store. It felt a bit like it had emerged from my dreams as only moments before I had been wishing a comic store was nearby. You see dear readers it was Wednesday and that is the holiest of days for those of us who read and enjoy these ongoing mythologies. I happily walked in and discovered the store had only opened the day before. They had every issue I needed that day and the owner was more than happy to discuss the comic book business and stories with me. Unlike some comic book stores the atmosphere was inviting and warm instead of isolated and exclusive. I have since been back to the store a few times and it has only gotten better with age and it is for this reason that I have decided to name Susquehanna Comics the 3rd best comic store in Eastern Pennsylvania. Although it certainly the most controversial decision as it lies in a location that could be disputed as Central Pennsylvania!
As you can tell Susquehanna Comics is a very new store and because of this their back catalog of issues is small but they make up for that with their 21st century comic store mentality. They are all over the internet on their website, and Facebook. Along with that they are constantly running sales and having events in their store such as creator signings and costume contests. They even have local comic writer Justin Jordan dropping by the store on January 22nd to promote his newest work. So as you can clearly see  this store really has an amazing potential to become the center of geekdom in the city of Harrisburg with its prime location among a youthful art community.
I really can't say enough about how awesome this store is if you are looking for current comic books. They have every title I can imagine any real comic fan wanting. I know I was surprised when I went in on the first day and found the Mass Effect Comic Book published by Dark Horse readily available. Not to mention it is the location that I picked up the last issue of Venom Volume 2. I'm still pretty sad that comic is gone; maybe I will have to go read my top 7 Story Arcs of Venom countdown one more time. Wait never mind that, back to the topic at hand. Susquehanna Comics is an amazing comic book store considering how new it is and how quickly its established itself. If you are in or near the city of Harrisburg be sure to check it and Strawberry Square out!
Check in next 'Thor's Day' for the next best Comic Store in Eastern Pennsylvania!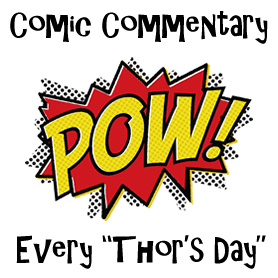 Past Comic Book Commentaries
Golden Unicorn Comics
Happy 'Comic Book' Holidays
Eon Viant
Red Branch Publications 'Cascade'
Comic Book Catchup
Laying the Hammer Down on 'Thor's Day'
Boycott X-Men: Days of Future Past