Huge Revelation for Avengers: Age of Ultron
by J.D. Cook
Alright so there was no new episode of Agents of Shield but there was one HUGE reveal for Avengers: Age of Ultron and apparently a lot of people missed it.
Spoilers Below!
It's the Hulkbuster Armor! (pictured above) This is obviously the armor Iron Man dons when he wants to battle the Hulk. There was the briefest of images of the Hulkbuster's arm (pictured below) and concept art of the armor along with early concept art for Scarlet Witch and Quicksilver. If you're like me then you were super disappointed with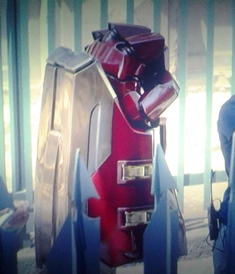 Iron Man 3 and it's ending wherein we got a bunch of lame suits and the total misuse of the classic Silver Centurion Armor. Then there was the armor a lot of people thought was the Hulkbuster armor but that turned out to be a suit called the Igor suit for heavy lifting. Now we know why we didn't get treated to, arguably, Iron Man's most iconic armor. Whedon was saving it for himself in the Avengers sequel. I can't even explain how excited I am to see Iron Man having it out with the Hulk. Although it could obviously be Ultron controlling the Hulkbuster armor which is not out of the realm of possibilities. Anyway I just got about a thousand times more excited for Avengers: Age of Ultron and I was already going out of my head with excitement!
Previous Episodes of Marvel's Agents of S.H.I.E.L.D.
Episode 15: Yes Men
Episode 14: T.A.H.I.T.I.
Episode 13: T.R.A.C.K.S.
Episode 12: Seeds
Episode 11: The Magical Place
Other Comic Book Related Articles
The Walking Dead: Show Vs Comic
The First Issue of Magneto is Magnetic
The Top 4 Comic Stores in Eastern Pennsylvania
Top 7 Venom Story Arc Countdown
The Avengers Age of Ultron Preview
Articles from Around the Web