Agents of Shield: The Bridge
by J.D. Cook
Agents of Shield has been a very hit or miss television show in its first season. It is somewhat to be expected as the creators are trying to see what works and does not work for the show. So far I'd say there have been three excellent episodes that hit on all the right notes and did everything I wanted to see this show do. Those were the Asset, where we get Graviton's origin story, The Girl in the Flower Dress, where we get our first good look at the shadowy organization causing problems for the Agents, and F.Z.Z.T. because of its emotional depth of character. The rest of the episodes had good moments and bad moments but I felt like the creators weren't fitting everything together quite right. Well after nine episodes the show finally presented us with a near perfect episode. The Bridge was a riveting and exciting hour of television that I literally couldn't walk away from. I mean I really had to pee right at the beginning but I just held it because I needed to see what was going to happen. Needless to say I felt great when the episode ended for bodily reasons.
Spoilers Below
First off I love the double meaning of the name of the episode. It's a bridge between the first block of episodes and the next and a bridge plays a literal role in the story! Ok so for those of you who watched you know that Mike Peterson (J. August Richards) returned to help the Agents crack the shadowy organization behind the Centipede project. I was pretty suspicious Peterson was going down from the start as they really worked hard to endear the viewer to him while he was on screen. I just knew it wasn't going to end well. I was proven right at the end of the episode but I was shocked by the brutal and quick nature of his death. As he raced to save Coulson (Clark Gregg) I was thinking he'd manage to do just that but suffer a fatal blow in the process. To my horror he didn't even make it a few feet as the 'Centipede Organization' had rigged the area to explode so as to cover their exit. I was speechless. Then good old Agent Ward (Brett Dalton) took a few bullets in the body and Coulson was successfully kidnapped leaving the Agents…well I don't even know. They are now leaderless and emotionally wounded by death and defeat…and god help me…I LOVE IT!
I can't wait to see how these characters react to what happened. Will Melinda May (Ming-Na Wen) become the default leader? How injured is Ward? Is Skye (Chloe Bennet) going to stay with Shield without Coulson backing her? Will Fitz (Iain De Caestecker) and Simmons (Elizabeth Henstridge) develop Hit Monkey!? Well that last one obviously isn't as serious. My only suspicion for next season is that the 'Centipede Organization' will discover Coulson is a cyborg of some kind and send him back to the Agents of Shield as a spy. They could easily just implant him with the device seen in Eye Spy as well but I think it would be more interesting if he was 'reprogrammed'. That is if he is in fact a Life Model Decoy as I have theorized. While on the subject of Coulson a big piece of information was revealed in this episode if you were sly enough to catch it.
The revelation comes after Coulson overhears Skye crying due to Melinda May's sudden turn into an unemotional and harsh witch (with a b instead of the w). The next scene is him giving Mike Peterson advice on being a father and being there for your children instead of letting them face life alone. Is this a fairly direct clue that Coulson is Skye's father? I think it has to be! At the very least he was the Shield agent who delivered her to the orphanage.
Let's return to that 'Centipede Organization' now.  There are multiple mentions of the Clairvoyant in this episode. He/ she seems to be the shadowy person in charge of this entire organization. My best guess is that it is the Leader aka Samuel Sterns (Tim Blake Nelson) from the Incredible Hulk. He is seen mutating from Sterns into the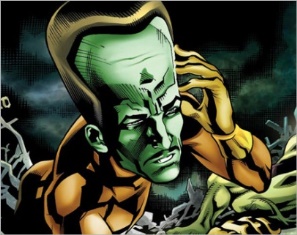 Leader near the end of the film but it is left open as to what became of him after. Although there is a comic book tie into the Marvel Films that says he was shot in the leg by Black Widow and put into custody by Shield.  I think he would really be the perfect villain for the Agents and since he is extremely smart it is not impossible his intelligence could be seen as clairvoyant to those below him.  Plus if he was captured by Shield that would give him a motive for revenge! That said that's not my only guess. It could be and stay with me here…Shield. It's clear in Captain America: The Winter Soldier Shield is up to no good. Perhaps Agents of Shield will lead directly into that. I've already said I'd love it if the Agents were actually on the run from Shield next season. Lastly my final and actually the most probable guess is that the shadowy organization is either AIM or HYDRA, both are large evil organizations already shown in the Marvel Cinematic Universe. Whoever they are I am just happy that the Agents now have a true foe to compete against for the rest of the season.
Well until January that is a wrap on the first half of the first season of Agents of Shield! Here's to seeing the Agents kick some ass and get wild next season while trying to rescue their main man Coulson!
Catch up with the Show on ABC. Com or Hulu!
Other Episodes of Marvel's Agents of S.H.I.E.L.D.
Agents of Shield: Pilot
Agents of Shield: 0-8-4
Agents of Shield: The Asset
Agents of Shield: Eye Spy
Agents of Shield: The Girl in the Flower Dress
Agents of Shield: F.Z.Z.T.
Agents of Shield: The Hub
Agents of Shield: The Well
Agents of Shield: Repairs
Other Comic Book Related Articles
Comic Book Catchup
Boycott X-Men Days of Future Past
Superior Spider-Man
Top 7 Venom Story Arc Countdown
The Avengers Age of Ultron Preview
Articles from Around the Web